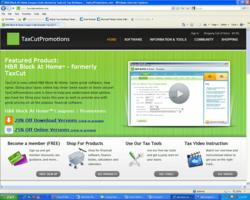 We are thrilled to have the opportunity to offer this exclusive 25% off H&R Block At Home coupon.
Houston, TX (PRWEB) January 24, 2012
Earlier today TaxCutPromotions.com, a new website offering a wide variety of tax tools, tax instructions, and incredible tax software coupons officially launched on its maiden voyage, just in time for the 2012 tax season. Showing the flag on this voyage is a fantastic H&R Block coupon for 25% off the online version of the 2012 H&R Block At Home tax preparation software (formally H&R Block TaxCut). Exclusive to TaxCutPromotions.com, this offer expires January 29th, 2012. This is the official 'all aboard' notice to taxpayers across America interested in saving 25% off the initial cost of H&R Block At Home, software that results in significant savings for the majority of users.
As a newcomer to the industry, TaxCutPromotions.com is focused on helping the average American taxpayer dramatically reduce their total tax liability. The new website offers a host of interactive tax tools like the tax calculator tool, tax bracket viewer, tax table viewer, 401k calculator and many more. A series of educational tax videos will walk the user through things like 'overlooked tax deductions' and 'personal income tax credits.' In addition to the 25% off H&R Block coupon, TaxCutPromotions.com offers a wide variety of financial software, finance books, calculators and calendars.
Visitors to the website can download a free 2011 Tax Changes Guide to walk them through the latest changes in tax law, and help ensure they are paying attention to the differences that could dramatically affect their personal and/or business taxes. Beyond that, dozens of concise, focused articles are available on an impressive variety of common tax questions and concerns. TaxCutPromotions.com believes passionately in their role of educating the average consumer about taxes, in the adage that 'knowledge is power.' And as taxpayers take control of their personal tax situations, power in most cases means saving a powerful chunk of change.
"We are thrilled to have the opportunity to offer this exclusive 25% off H&R Block At Home coupon," said Justin Bowen, CEO of TaxCutPromotions.com earlier today. "We believe that having a close working relationship with providers of software and financial tools like H&R Block creates a win-win situation for everyone, but ultimately it's the informed consumer that really sees some great savings."
Taxpayers everywhere are officially invited to climb aboard at http://taxcutpromotions.com, this adventure to the land of lower taxes is officially weighing anchor.
###