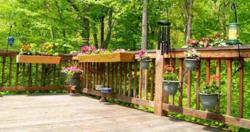 All of our products install the same way. No tools, no clamps, no frustration.
Asheville, NC (PRWEB) January 26, 2012
In a move to promote container gardening and birding to renters and urban residents, Blue Ridge Bracket Company is running an online promotion. All Rockit Brand planter brackets, bird feeder hangers, and flower pot holders will be 10% off MSRP until April 1st. Blue Ridge Bracket Company says its Rockit Brand is perfect for renters, urban homeowners and almost anyone with a deck, porch or patio. BRBC intends to offer their entire Rockit Brand line at 10% off with a money back guarantee to give all consumers a risk free chance to evaluate their product line.
Blue Ridge Bracket Company's patented "Rock it to lock it" philosophy means that all of their products, fit over 70 million decks in North America with no tools required. Terry Reno, inventor of the Rockit Brand product line ensures that all of his products fit deck pickets between 1 1/4" to a standard 2X2 picket. With Rockit Brand wrought iron adapters, renters and homeowners with vinyl, composite, and wrought iron. pickets between 1/2" and 1 1/4" can use Rockit Brand Brackets as well.
The main appeal of all Rockit Brand products is that they use a universal connection which makes installing and moving them easy for anyone. Trent Van Dyke, CEO of BRBC says, "All of our products install the same way. No tools, no clamps, no frustration." He adds, "It no longer requires a handyman to add an aesthetic look to your deck." Terry Reno says he is humbled when people look at his product and ask, "Why didn't I think of that?" Terry goes on to explain that no one wants to put screw holes in their expensive decks and not everyone is capable of using heavy power tools or unscrewing rusted clamps to move their brackets. This product was truly designed with the consumer in mind.
Blue Ridge Bracket Company's "Rock it to lock it" connectors take the anxiety out of container gardening. According to the company, there is freedom in being able to hang a planter or flower pot in one spot, then move it to follow the sun year-round. Trent stated that the people he talks to, appreciate being able to move a bird feeder or hanging basket without operating a drill. He says that consumers really love the fact that they can use the Rockit Brand for gardening in the spring, and holiday decorating in the winter. The ease of use and versatility of these products put the fun back in container gardening and outdoor decorating. With a 10% discount and money back guarantee, there is no reason to pass this up.
Blue Ridge Bracket Company is based in Asheville, North Carolina and carries products for gardening, birding and seasonal decorating. Blue Ridge Company ships to hundreds of independent garden centers, wild bird stores, and hardware stores across the United States and Canada. For more information on Blue Ridge Bracket Company or their products, please visit http://www.justrockit.com. Contact Trent Van Dyke at (828)242-8577 or by mail at Blue Ridge Bracket Company 40 Wendover Road Asheville, North Carolina 28806.
###