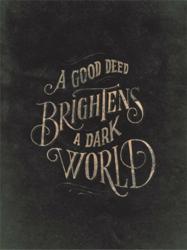 The mission of our company is a simple one...inspire people to love art & love others." Tim Moore - co-founder, Help Ink
Irvine, Calif. (PRWEB) January 25, 2012
Help Ink provides a platform for artists to use their skills to implement positive change in the world, raising funds for charitable organizations the world over. The site offers premium artwork from a list of world-class designers and illustrators, including: Kyle Webster, Von Glitschka, Richard Perez, Jon Contino, Dan Matutina, Jon Ashcroft, Blake Suarez and many more. As of now, pieces can be purchased as posters or wearable art (t-shirts).
"Few things are more satisfying for a designer than being given free reign to creatively express themselves or producing work for an organization they admire and are proud to be associated with. Projects offering either of those qualities don't come along everyday and being able to experience the two simultaneously is almost unheard of. As a contributing artist to Help Ink that's exactly what I got though and I can't wait to work with them again." Jon Ashcroft - contributing artist
Help Ink has partnered with charitable organizations such as Heifer, Plants with Purpose, Smile Train, and Malaria No More to combat some of the world's greatest problems and help people in need. However, artists and purchasers can recommend where they would like to see their purchasing dollars go by emailing the group at charities@helpink.
"The best part of this project has been finding out that the artists whose work I've followed and admired are all great people that want to use their talents to better the world."
Drew Carson - co-founder, Help Ink
Help Ink was founded in September 2011 through the efforts of Drew Carson, Tim Moore, and Jonathan Witt. The company formed over a few iced coffees in an Orange County Starbucks, with their mission being to "curate world-class art, provide aid to real people in need, and inspire others to do good."
###