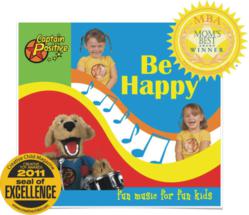 If you have kids - or are a kid - or are a kid at heart - you will LOVE this Happy Boogie dance from Positively Kids!" Karen Salmansohn, Best Selling Self-Help Author
San Diego, CA (PRWEB) January 25, 2012
'Happy Boogie' phenomenon started by Captain Positive: Be Happy CD/DVD Series; Song broadcast on YouTube to celebrate upcoming DVD release.
To celebrate the recent release of the new "Captain Positive: Be Happy" CD and in anticipation of the companion DVD release, Positively Kids has uploaded the album's infectious "Happy Boogie" on YouTube - and its uplifting message is poised to take the world wide web by storm.
"Okay kids, it's time to practice what we learned today," beckons the ever-smiling superhero pup for which the "Captain Positive" series is named. "Everybody stand up and let's get ready for the happy boogie!" he exclaims. "Feel it!" cheer a group of kids off-screen. At that, the music starts and a female singer instructs an array of adorable and smiling kids on how to perform the happy boogie through song:
"Put your hands on your hips. Jump up and down. Jump to the right. Wiggle around.
All day long. Just bring the house down!"
Shot by shot, happy kids perform the "Happy Boogie" and they can't stop themselves from laughing.
"Do the Happy Boogie. Boogie-oogie-oogie!
Come on everyone, do the Happy Boogie with me!"
"When kids are happy, they can say they're doing the Happy Boogie!", Says Positively Kids Founder.
Similar to the gratitude dance, Positively Kids hopes that the "Happy Boogie" will grow into a kid-pop-culture phenomenon all its own - prompting happy kids to exclaim they're doing the happy boogie whenever they feel positive vibes. And, if the experts' opinions are any indication, the "Happy Boogie" is poised to do just that:
"The Happy Boogie Dance put a big smile on my face! I want to start every morning doing the Happy Boogie" -Kristel Boe, Marketing Coordinator at Kid Ventures.
"If you have kids - or are a kid - or are a kid at heart - you will LOVE this Happy Boogie dance from Positively Kids!" - Karen Salmansohn, Best Selling Self-Help Author.
About Positively Kids and the "Captain Positive: Be Happy" CD
Founded in 2010 in San Diego by mom Stacey Crumrine, Positively Kids brings parents, caregivers, and educators many tools that they can give to the precious little minds for maximum positive impact. Positively Kids weaves its "Captain Positive" character, the super-hero of positive thinking, through CDs and DVDs like "Captain Positive: Be Happy", as a means of preparing kids for the years and challenges ahead and arming them with a positive attitude to carry throughout their lives. The "Captain Positive" products use a fun eclectic musical collection that parents and kids both love, all while delivering positive messages and teaching the power that positive thinking can have throughout their lives.
To learn more about Positively Kids and their new "Captain Positive: Be Happy" CD, visit: http://www.positivelykids.com
To learn more about the Happy Boogie, visit:
http://www.youtube.com/watch?v=f6O99ekiteA&feature=plcp&
context=C3d201c9UDOEgsToPDskLYRtG6ijM5URuVwZwIvmmH [Happy Boogie on YouTube __title__ Happy Boogie on YouTube]
###