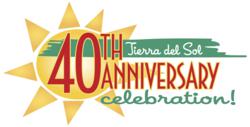 The work our staff is able to do at Tierra has completely changed the landscape for people with developmental disabilities.
Sunland, CA (PRWEB) January 24, 2012
On February 4, 2012, Tierra del Sol Foundation (Tierra) will mark 40 years of serving individuals with disabilities, empowering them to establish meaningful and productive lives and contribute to the economic, cultural, and civic vitality of their communities. The milestone will be commemorated with a day of fun for Tierra families that will include a champagne reception and the creation of a time capsule to connect the Foundation with future generations.
Tierra was co-founded by a handful of committed parents who sought an alternative for their teenage children to the institutional care and limited school access that prevailed four decades ago. After a couple of years of meeting in various temporary locations, the group was able to make an arrangement with the School Sisters of Notre Dame to use their 7-acre property in Sunland, a small community located in the Northeast corner of Southern California's San Fernando Valley. The founding parents were also active in supporting the passage of California's Lanterman Developmental Disabilities Services Act, or the "Lanterman Act," which ensures that people with developmental disabilities have the right to live as members of their communities and that they and their families have access to necessary services and supports. Widely recognized as the "Bill of Rights" for persons with Developmental Disabilities, The Lanterman Act was signed into law by then-California Governor Ronald Reagan in 1969.
Formally established as a nonprofit organization in 1971, Tierra has grown from an organization that served fewer than 10 children with a few activities, to one that now serves some 550 participants through 11 distinct programs at 100 locations across Los Angeles—including the Sunland campus, which the Foundation purchased as its permanent home.
"We are still inspired by our founders' dedication and vision," said Steve Miller, Tierra's Executive Director since 1990. "Tierra is guided by the conviction that each and every human life has value and purpose," he said, adding, "that disabilities do not limit human potential, but only define the set of challenges a person must overcome through personal courage and commitment. Tierra's job is to match each individual's ambition to overcome his or her challenges to fulfilling a valued role in his or her community with the support, guidance, and structure each person needs to succeed." Miller said, "There are three ingredients to an individual's success: an individual's strength of character and ambition to make the most of his or her life, the creativity and resourcefulness of Tierra's instructional staff, and the willingness of our community to accept and embrace the gifts of all of its citizens. When all of these ingredients line up, the notion of disability just simply disappears, replaced by the reality of empowered and productive citizens, contributing to a stronger community and society."
Throughout its history, Tierra has worked to bring these ingredients together in Los Angeles. Hundreds of success stories later, the journey continues. With State budget cuts, garnering the necessary resources to move forward has become a significant challenge. "But there is no turning back to a past of institutions and discarded lives," Miller said. "At its very core, Tierra is an organization of advocates. We know what kind of a future is possible for the people we serve, and we will not be deterred from our mission to help them achieve that future."
Tierra is particularly distinguished by its educators' unparalleled level of expertise in all areas of developmental disabilities, including autism, Down syndrome, and other disabilities. Many staff members, like Miller, have served individuals with an intellectual disability at Tierra for more than two decades and are now working with the next generation of participants.
Added Miller, "The work our staff is able to do at Tierra has completely changed the landscape for people with developmental disabilities. People are out working and earning a living everywhere in our community. The creativity of the artists with disabilities we serve has been recognized internationally and has earned thousands of dollars in commissions for the artists. Through Tierra del Sol's NEXUS program, people are now attending local community colleges. We recently saw our first participant earn her Associate of Arts degree, and this is just one example of the myriad things we've been able to accomplish at Tierra over the last 40 years. We look forward to the achievements the next 40 years will bring."
A past Foundation board president, lifelong advocate for individuals with disabilities, and mother of one of Tierra's earliest participants, Patricia Cambern, agreed, "I think of Tierra del Sol as a lovely painting that will never truly be completed. Each day and year, we can see new brushstrokes as new ideas and new creations come to life for the people we love."
For more about Tierra del Sol Foundation, please visit: http://www.tierradelsol.org.
# # #