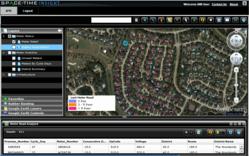 Space-Time Insight's successful customer deployments in the utilities sector makes this market a natural fit for our first industry-specific application.
San Antonio, TX –
DistribuTECH 2012 (PRWEB) January 24, 2012 -- Space‐Time Insight, the leader in situational intelligence solutions, today introduced the Situational Intelligence Suite for Utilities, a set of purpose-built applications that transform massive volumes of real-time, historical and predictive data into intuitive displays for rapid decision-making. Built on innovative geospatial and visual analytics software, the suite includes the first out-of-the-box domain-specific applications designed to visualize and analyze assets, resources and operating conditions, speeding time to value, and facilitating collaboration across departments. The first application in the suite is Smart Meter Intelligence, to be available this quarter.
Today's utilities are faced with a massive influx of smart meter data and under pressure to show returns on their Advanced Metering Infrastructure (AMI) investment. Smart Meter Intelligence extends the capabilities of "big data" solutions by helping organizations visually correlate real-time meter data with enterprise, grid, communications, environmental, and other information streams to better understand their smart meter operations. In breaking down data silos and providing users with the visibility and analysis needed for split-second decision-making, Smart Meter Intelligence simplifies the task of making sense of multiple sources of information that are critical to efficient utility operations.
"Space-Time Insight's successful customer deployments in the utilities sector makes this market a natural fit for our first industry-specific application," said Rob Schilling, Space-Time Insight's CEO. "Power companies have invested tens of millions of dollars in AMI infrastructure and are severely challenged in achieving ROI. With Smart Meter Intelligence, Space-Time Insight is empowering organizations to combine petabytes of meter data with numerous other data sources to create relevant, actionable information that directly adds value in the form of improved customer service, revenue protection, and overall operational efficiency."
About Smart Meter Intelligence
With pre-built geospatial and traditional analytics displays, domain-specific models, and configurable business rules, Smart Meter Intelligence provides rich visual context around smart meter data. The application can be configured and deployed in weeks with minimal IT resources, integrating seamlessly with existing meter data management (MDM) and other systems to populate the displays. The solution's geospatial visualization capabilities help users identify and solve problems more proactively, reduce missed billing cycles due to unread meters, and improve operational efficiency. And, using Space-Time Insight's breakthrough Multifactor Anomaly Detection technology, only Smart Meter Intelligence can dynamically identify unique combinations of exceptions and conditions that pinpoint issues requiring attention. The application also delivers unlimited scalability through integration with SAP HANA and the ability to dynamically offload processing to big data systems such as EMC Greenplum, based on exceptional load demands.
"Space-Time Insight's Smart Meter Intelligence application, leveraging EMC's Greenplum analytics database and Smarts IT Operations software, offers an infinitely scalable and rapidly deployable solution for utilities to properly gain control of Big Data from many different sources," said Patricia Florissi, Vice President and CTO, America's at EMC. "We are excited to work with Space-Time Insight to deliver integrated real-time situation intelligence and big data analytics solutions to our mutual customers."
Using Smart Meter Intelligence, utilities can end tedious and ineffective cross comparisons of numerous charts, applications, and spreadsheets, for the first time, accessing a single, visual application to:

Unlock the value of AMI information and instantly correlate it with other data sources and formats, such as enterprise systems, meter data management systems (MDMS), billing systems, grid feeds, communications systems, weather feeds, and more.
Quickly see the current status of deployed meters across regions and identify where potentially problematic meters are located, all the way down to the neighborhood and property level.
Facilitate better collaboration across organization departments and disciplines by making a single, visual version of the truth available to users in diverse areas such as operations, customer support, field service, and billing.
Drill down into the root cause of why specific meters haven't been read, including whether it's due to an outage, tampering, meter failure, communications problem, lightning strike, or a combination of reasons.
Engage in sophisticated analysis of real-time meter data that will most impact the next billing cycle, and take advantage of prompt action-taking interfaces that aren't available using traditional analytical tools.
Dynamically configure analytical boundaries across space, time, and meter data on-the-fly, for highly customizable and flexible intelligence gathering.
For additional information, watch an on-demand Smart Meter Intelligence webinar by clicking here.
About Space-Time Insight
Space-Time Insight transforms the vast quantities of disparate information spreading across organizations into intuitive visual displays that businesses can use to make informed real‐time decisions. From traditional transmission, communications and transportation networks to Smart Grids and Cities, our next‐generation situational intelligence solutions are making critical infrastructure smarter, safer, and more reliable. With Space‐Time Insight, enterprises can visualize and analyze their resources across location and time, rapidly respond to disruptions in service, and lower risk while increasing customer satisfaction and profitability. Major organizations around the world rely on our high‐performance software to gain actionable insights into their businesses and make real‐time operational decisions. Space-Time Insight's partners include Accenture, Esri, IBM, Oracle, OSIsoft, and SAP.
Space-Time Insight is privately held and based in Fremont, CA. For more information, visit
http://www.spacetimeinsight.com.
###