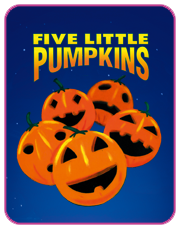 Spooky animations on every page!
Santa Barbara, CA and Offenbach (PRWEB) January 25, 2012
zuuka, via its publishing label iStoryTime, and HarperCollins Children's Books are proud to announce that Five Little Pumpkins is the winner of the Publishing Innovation Award in the Children's category.
"It is a real honor to have the industry acknowledge both the creative work and long hours that went into producing Five Little Pumpkins, the first-ever interactive children's ebook on the iBookstore," said Graham Farrar, Founder of zuuka. "We strive to provide parents and their children quality titles that immerse the reader into the story, leveraging the platforms we work on, and get them excited about reading."
The Five Little Pumpkins storybook for the iPad, iPhone and iPod® touch was developed by zuuka's in-house studio. The ebook features ghostly animations and spooky sounds for a hands-on reading experience and is available on the iBookstore.
Released in partnership with HarperCollins Children's Books, Five Little Pumpkins brings Dan Yaccarino's illustrations to life in this perennial rhyming favorite of parents, teachers and kids alike, a full soundtrack and animations that activate when touched are featured throughout the book for the ultimate storytime adventure.
Toddlers and young readers are sure to enjoy the rhythmic story and vibrant and bold illustrations from Dan Yaccarino as he brings these pumpkins to life with personality and style. The book features read-to-me audio, animations and sound effects throughout.
Pricing and Availability:
Five Little Pumpkins is $5.99 USD (or equivalent amount in other currencies) and available worldwide via iBooks in the Books category.
ABOUT ZUUKA
zuuka publishes iTalk and iStoryTime – an interactive storytelling experience delivered to the convenience of your mobile device – which features a series of illustrated and narrated books created by parents for kids. iStoryTime books have been highlighted in the New York Times, LA Times, CBS Early Show, theiPhoneMom.com, CNET and are decorated with Publisher's Innovation Award, PTPA Media's Parent Tested Parent Approved Seal of Approval, the Children's Technology Review's Editor's Choice Award and Reader's Choice for Best Apps for Kids. With over 100 titles to choose from including favorites such as Kung Fu Panda, Shrek, How to Train Your Dragon, Peter Pan and Binky the Pink Elephant, iStoryTime books are an excellent tool for both educating and entertaining children ages two years and up. These storybooks can be enjoyed in several different modes ranging from automatic to manual, depending upon the development and preferences of the user. For additional information, visit http://www.iStoryTime.com.
ABOUT HARPERCOLLINS CHILDREN'S BOOKS
HarperCollins Children's Books is one of the leading publishers of children's books. Respected worldwide for its tradition of publishing quality, award-winning books for young readers, HarperCollins is home to many timeless treasures – Charlotte's Web, The Chronicles of Narnia, Goodnight Moon, Where the Sidewalk Ends, the Ramona series, Where the Wild Things Are; and popular new classics – The Graveyard Book, A Series of Unfortunate Events, Warriors, and Fancy Nancy. Consistently at the forefront of digital innovation, HarperCollins Children's Books delights young readers through engaging storytelling in all formats, including ebooks and apps. HarperCollins Children's Books is a division of HarperCollins Publishers, one of the leading English-language publishers in the world and a subsidiary of News Corporation. Headquartered in New York, HarperCollins has publishing groups in the US, Canada, the UK, Australia/New Zealand, and India. You can visit HarperCollins Children's Books at http://www.harpercollinschildrens.com and HarperCollins Publishers at http://www.harpercollins.com.
###