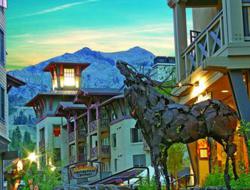 (PRWEB) January 24, 2012
Soaring down the snow trails in Squaw Valley is going to put a dent in the wallet of traveling skiers and snowboarders. The high skiing season is bringing with it costly lodging rates at the popular resort. As a result, Squaw Valley in Olympia Valley, California, just outside Sierra, Nevada, comes in as the second most expensive ski resort in the United States, according to a new survey compiled by Cheaphotels.org.
The survey found that staying at the world-class resort will cost visitors more than $200 a night. In fact, the cheapest double rooms available are currently averaging $214 per night for a weekday stay. To hit the trails on a weekend day off, travelers will have to come up with significantly more cash. On Friday and Saturday nights, Squaw Valley lodging prices are running as much as $330, the survey revealed.
Ski lovers who want to get their snow mountain fix on a budget can try this tip. Instead of staying in the heart of Olympic Valley, they can book a room in Tahoe City. From there, where weekend and weekday room rates are coming in much more affordably at under $100 per night, it is just a 20-minute drive to the Squaw Valley ski resort.
Despite its hefty price tags, Squaw Valley isn't the nation's most expensive ski resort area. In fact, Beaver Creek snagged the top spot by a mile. Visitors to this ultra-pricey Coloradoan resort will, on average, have to spend more than $300 for the cheapest available room.
Rounding out the top three in the survey, just behind Squaw Valley, was Aspen, Colorado. Overnight stays at that ski resort trail the California competition by a mere $2, going for $212 per night.
Following is a list of the 10 most expensive ski resorts in the USA. The rankings are based on the average rate for the cheapest available double room during the month of February 2012.
1.Beaver Creek (Colorado) $314
2.Squaw Valley (California) $214
3.Aspen (Colorado) $212
4.Vail (Colorado) $200
5.Snowmass Village (Colorado) $175
6.Copper Mountain (Colorado) $160
7.Jackson Hole (Wyoming) $159
8.Park City (Utah) $153
9.Telluride (Colorado) $141
10.Keystone (Colorado) $121
For more information about this survey, visit http://www.cheaphotels.org/press/ski-resorts-2012.html
CONTACT: Barbara Adams, press(at)cheaphotels(dot)org
###