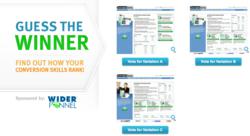 Conversion Optimization is serious business and in some cases it has more than doubled online results for our clients, but it can also be a lot of fun.
Vancouver, British Columbia (PRWEB) January 24, 2012
WiderFunnel, a Conversion Optimization agency, today released ConversionSkills.com, a free interactive game that helps marketers visually learn how to increase the number of leads and sales they acquire through landing pages.
Interest in Conversion Optimization has skyrocketed with marketers. This game aims to satisfy that demand with valuable data about the types of web pages that are winning more leads and customers online.
Participants in the ConversionSkills.com game view a series of actual website experiments, including the page variations that were tested. For each experiment, participants choose which variation they believe converted the most visitors to leads or customers in each experiment.
Whether their answer is right or wrong, participants are able to view the full Conversion Optimization case studies to learn more about each test and why the winning variations performed better than the others. The game also includes a social media aspect that enables the game to be shared with friends on Facebook, Twitter and LinkedIn.
The free game can be played at http://www.conversionskills.com
Players can receive up to five full Conversion Optimization case studies.
"Conversion Optimization is serious business and in some cases it has more than doubled online results for our clients, but it can also be a lot of fun," said Chris Goward, CEO of WiderFunnel, "We are often surprised by the results of the tests, and we think marketers who play this game will find some surprises too!"
Game participants can also be added to a special early access list to receive new test result case studies before they are released to the public. "I don't know of any company that reveals so much information about the work they're doing," said Josh Braaten, Senior Online Marketing Manager at Rasmussen College, "I've seen the results of WiderFunnel's tests first-hand and the insights revealed in this game will be very valuable to people who play."
About WiderFunnel:
WiderFunnel is the leading Conversion Optimization Agency that provides full service conversion rate optimization on any testing platform – with results guaranteed. WiderFunnel helps both global and regional B-to-B and B-to-C clients improve their lead-generation, e-commerce and affiliate conversion rates. From the results of thousands of tests, the company has developed an internal playbook of results and proves the value of their ideas with scientific A/B/n split-testing and multivariate testing. WiderFunnel plans, designs, codes and delivers clients with website pages that are statistically proven to persuade a higher percentage of web visitors to become leads and customers (no guessing; no "opinions"). Clients include: eBay, Epson; SAP; Electronic Arts; Alfresco; Extra Space Storage, and many others.
###