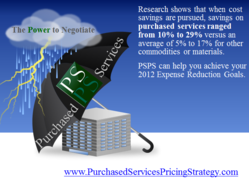 Wall, New Jersey (PRWEB) January 24, 2012
Purchased Service Pricing Strategy, the leading provider of purchased service expense reduction, has created a White Paper available to hospital executives. The Top Ten Concerns Every Hospital CFO Should Have About Purchased Services is a detailed analysis of healthcare purchased services contracting which contains crucial insight and research in this specialized spend area. Purchased Services is a large and complex area that is often least understood, overlooked and ineffectively managed. This White Paper identifies that overspending in purchased services creates a substantial impact on a hospital's finances.
Hospital and health system operating margins are faced with relentless challenges caused by the ever changing landscape within the healthcare industry.
Moody's Investors found that 20 percent of non-profit hospitals examined by the credit rating agency were losing money on operations. Additionally, 63 percent of non-profit hospitals had operating margins of 0 to 5 percent, and overall, the median revenue growth rate of non-profits is at 4 percent, the lowest in two decades. For-profit hospitals have not been immune to the stagnant financial times either. Operating costs have increased by more than 5 percent over the past three years.
With current industry projections showing that hospitals must cut operating costs by 10 to 20 percent in the next three to five years in order to survive, it is imperative that access be acquired to areas of spend that have yet been tapped into for extensive cost saving reductions.
PSPS's White Paper provides an in depth view of the one area a hospital can look to for immediate expense reduction, providing the monumental opportunity to achieve unseen savings.
Purchased services spend is often considered a secondary target for cost reduction, yet studies suggest that services spend can account for 30 percent to 70 percent of an organization's total purchase dollars. Fearon and Bales (1995) state that "the opportunity to increase profits through more effective purchasing probably is greater in the buying of services than in the purchase of goods."
PSPS the first and only subscription service that offers price benchmarking data for all of a hospital's purchased service spend, uses their proprietary and comprehensive database of 107 purchased service categories to offer hospitals market-competitive pricing within each category. An experienced team consists of healthcare executives, clinicians, business analysts, and financial analysts save hospitals, on average, 16% on their Purchased Services Spend through Purchased Services Pricing Strategy.
PSPS's CEO and Co-Founder Lisa T. Miller, MHA states "Purchased Services is an area that is commonly overlooked for cost savings because of the complex nature of the agreements and the unavailable benchmarking data which exists in the marketplace until now. Over the past 13 years we have seen money being lost through overpriced purchased services, and we developed this analytical benchmarking service as a solution."
To obtain the free PSPS White Paper, email PSPS(at)VIEHealthcare(dot)com, or call (732) 359-7646 EXT 500. Or you can visit http://purchasedservicespricingstrategy.com/
###