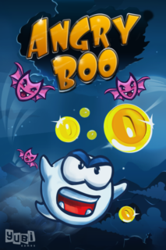 Addictive from the very first second.
Madrid, Spain (PRWEB) January 25, 2012
Yubi Games, an innovative mobile games developer and publisher, has today announced the release of Angry Boo for the iPhone, iPad, and iPod Touch. Angry Boo is a fast paced arcade adventure that charges players with helping Boo the ghost get as many gold coins as he can by strategically jumping from one spider web to the next while avoiding ornery bats and other obstacles along the way. With gameplay that challenges users to calculate height and distance with each jump, and small landing spaces that don't leave much to chance, this exciting game represents an engagingly refreshing new spin on the mobile platforming genre. Angry Boo is currently available for download on the Apple App Store for free in the Games category.
This wildly addicting title shines as the consummate "Grab it and Go" mobile gaming experience. Shooting Boo is simple yet extremely fun with the game's intuitive controls: Just touch Boo, pull back either a bit or a lot to set the force of his shot, and move your finger up or down to set his trajectory. This gives players the freedom to shoot him in high arcs over short distance, straight and fast like a bullet, and everywhere in between to ensure they can always find the perfect move to get every coin that they come across.
Angy Boo takes place across 28 unique levels which take place on 4 differently themed game zones. Scoring in the game is simple and sweet. Each collected coin get players 10 points, but if you can pick up multiple coins quickly you'll be rewarded with multiplier bonuses for each coins. Get two coins in a row and the second one will net you 20 points instead of 10! Bag 3 coins quickly and the second and third coins are worth even more, and so on.
Once they're ready to get social, players can compete for high scores against other players online via Apple's Game Center and Openfeint online leader boards. In an extra bonus, the app comes complete with iCloud integration which means that users can pick up and play thier Angry Boo game on almost any iOS device. Simply put, Angry Boo is a complete mobile game that will get you glued to your iPhone faster than Boo gets glued to a spiderweb.
Watch Angry Boo video trailer at - http://youtu.be/MbhWk_O07pI.
###