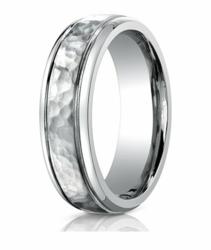 Men who are shopping for wedding bands will love the distinctive designs in this bestselling collection of men's designer titanium rings
Jensen Beach, FL (PRWEB) January 25, 2012
Since this popular online shopping site launched in 2010, Mens-Wedding-Rings.com (MWR) has become one of the most talked-about success stories in the world of men's jewelry. Constantly innovating and adding to their expansive inventory, MWR has become known among wedding consultants as an excellent resource for men's wedding bands at affordable prices. After launching this new designer collection of men's titanium rings, owners Roy and Judy Devine have added even more value to the MWR shopping experience, but they were surprised to see how quickly these new rings took off.
Mens-Wedding-Rings.com is pleased to offer an extensive selection of of men's designer titanium rings, as well as many other contemporary designer collections, all at affordable prices. MWR is quickly becoming known throughout the jewelry industry for their designer collections, which rival those found at the top brick-and-mortar jewelry stores. Many jewelers are offering titanium wedding bands, but very few are offering collections of this quality. These attractive men's designer titanium rings are made from aircraft grade titanium and yet they are surprisingly affordable; plus, they are made with a comfort-fit design on the inside.
Titanium is an extremely durable, hypoallergenic and lightweight metal. It is an excellent choice for individuals who prefer a lighter material without sacrificing strength or style. Titanium has a natural color of gunmetal gray, which can be satin-finished or polished to a brilliant shine. Their latest designer collection includes a selection of titanium rings that are hammered, beveled, four-sided and grooved. In addition to natural titanium, the designer selection also includes a number contemporary black titanium rings in grooved, polished and hammered styles.
A major reason for the early success of Mens-Wedding-Rings.com is their dedication to making sure their inventory reflects the styles and metals that customers want to buy. Owners Roy and Judy Devine are constantly looking for ways to enhance their selection of traditional and alternative wedding bands. When they added this new collection in December, the retailer was responding to increased customer demand for more men's designer titanium rings. Modern and meticulously crafted, this new collection attracted new customers to the store during the holiday season, and this is expected to continue through Valentine's Day and beyond.
When shopping for men's wedding rings, people prefer to shop at a store that has a huge selection of rings at reasonable prices, but they also want to find a ring in their size. With large size rings up to size 20, Mens-Wedding-Rings.com offers a better opportunity for men to find what they want – all in one place. In addition to their unparalleled selection of contemporary metals, MWR is known for their competitive prices on platinum and gold. Men who are shopping for wedding bands will love the distinctive designs in this bestselling collection of men's designer titanium rings.
About Mens-Wedding-Rings:
Mens-Wedding-Rings.com is a niche online jewelry store for men's wedding rings and bands. In this specialized retail environment, customers find the best quality men's traditional and alternative wedding rings. From major designer bands in traditional and alternative metals to non-designer rings in stainless steel, titanium, tungsten, sterling silver and cobalt, Mens-Wedding-Rings.com is a one-stop source for men's wedding bands and rings. Owners Roy and Judy Devine make it their goal to ensure their customers are completely satisfied, so they only sell high quality rings at excellent prices. All of their rings come with a 100% satisfaction guarantee, and their customers have come to expect the highest standards of service, selection and quality when they shop at Mens-Wedding-Rings.com. MWR offers the best selection of men's wedding rings on the Internet, many of which are available through size 20.
Contact information:
Roy & Judy Devine, Owners
Mens-Wedding-Rings.com
800.676.0363
http://www.mens-wedding-rings.com
Email: roy(at)mens-wedding-rings(dot)com
# # #