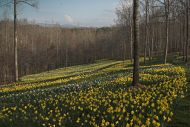 "I've dreamed of creating a world–class garden in the Atlanta area for more than 40 years," says Gibbs
Ball Ground, GA (PRWEB) January 26, 2012
In "Here Comes the Sun", Southern Living's Senior Garden Writer Steve Bender gives readers a preview of soon-to-open Gibbs Gardens: "sweeps of well over 5 million daffodils in 60 different selections bejewel 50 acres. . ."
There's a lot more to Gibbs Gardens "Seasons of Color" than its spectacular daffodils "where hillsides drip with gold and silver each spring." The 300-acre Gibbs estate garden in Cherokee County includes 220 acres of breathtaking gardens set in mature rolling woodlands dotted with ponds, springs, streams and waterfalls.
"At less than an hour's drive from Atlanta," says Bierman, "it's well worth the trip to see a landscape that undoubtedly will be considered one of our regions most treasured landmarks."
Georgia Public Broadcast viewers will see a preview of Gibbs Gardens in a "Georgia Traveler" segment set to air 8 p.m. Friday, Feb. 17 and 6:30 p.m. Saturday, Feb 18. Garden lovers outside of Georgia's GPB-TV viewing area will still be able to see the segment on http://www.gpb.org/georgia-traveler.
*Forty-year Dream Comes True
Jim Gibbs, the owner, designer and developer of Gibbs Gardens, is the founder of Gibbs Landscape Co., one of the largest, oldest and most successful landscaping firms in Atlanta. Gibbs and his company have received more than 250 awards for landscape design excellence, including two national awards presented at White House receptions.
"I've dreamed of creating a world–class garden in the Atlanta area for more than 40 years," says Gibbs. "After spending six years finding just the right property and another 30 plus years designing and developing Gibbs Gardens, that dream is about to come true. Gibbs Gardens will open to the public on March 1, 2012."
Visitors to Gibbs Gardens will be amazed by the diversity and breadth of its 16 artistically designed garden venues and dazzled by the four feature gardens:
Japanese Gardens, at more than 40 acres is the largest in the nation.
Monet Waterlily Gardens, featuring 140 varieties of unique lilies and a replica of the bridge in Monet's Garden at Giverny (outside Paris).
Arbor Crest Manor House Gardens, located on the highest ridge in northeast Cherokee County, where seven flowering terraces flow seamlessly down 150 feet of elevation from Arbor Crest Manor House to the Valley Gardens.
Daffodil Gardens, 60 varieties of daffodils sweep across more than 50 hillside acres under a canopy of flowering dogwoods and cherry blossoms.
*Convenient Location
Gibbs Gardens is conveniently located less than an hour's drive north of Atlanta, between SR 400 and 575. Visitors will enter Gibbs Gardens off Yellow Creek Road in Cherokee County, from Hwy 53 on the north or SR 369 on the south.
Gibbs Gardens' unique blend of natural and man-made features begins immediately as visitors turn onto Gibbs Gardens where 120 Red Sunset Maples bordered by towering Leland Cypress trees create a shaded allée -- leading visitors through a cathedral-like canopy of trees to the hidden gardens beyond.
The Welcome Center adjacent to the parking area includes The Seasons gift store, ticketing and restrooms. Just steps away, The Arbor Café will offer a selection of sandwiches on fresh baked bread, desserts and daily specials on baked goods.
Meeting and event locations will be available at selected locations throughout the gardens. Tour groups are welcomed.
Gibbs Gardens will be open from 9:30 a.m. until 5 p.m. on Thursday, Friday, Saturday and Sunday from March 1 through the end of November. Wednesdays are reserved for tour groups.
Tickets to visit the gardens will be $20 for general admission to all 16 garden venues. Seniors 65+, tour groups of 10 or more and children 4-18 can visit the gardens for $18. Children 3 and under are free. Families (two adults, two children ages 3-17) can visit all 16 gardens for $75.
There is no charge for parking. Trams -- $5 for a day pass -- will be available to take visitors between the Manor House Gardens and Valley Gardens and along other garden routes.
Plan on four hours to see all of Gibbs Gardens or two hours to see either the Valley Gardens or Manor House Gardens. Annual memberships to the gardens are also available, offering visitors unlimited access during the gardens regularly scheduled hours.
Season pass fees are $70 for individuals, $100 for couples and $150 for families (2 adults, 2 children). Garden guides will be available for group tours for a separate fee and must be arranged in advance. Admission fees are subject to state and local sales tax.
For more information, go to http://www.gibbsgardens.com or email info(at)gibbsgardens(dot)com for questions and information. Gibbs Gardens is located at 1998 Gibbs Drive, Ball Ground GA, 30107. The phone numbers are 770-893-1880 and 770-893-1881.
###