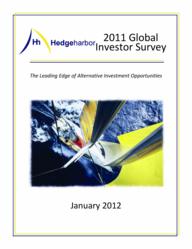 Investors are increasingly turning to smaller managers to find performance
New York, NY (PRWEB) January 25, 2012
Hedgeharbor Inc., a wholly owned subsidiary of Asset Alliance Corporation that specializes in investment placement services to institutional investors and high net worth individuals, has recently completed their Annual Global Investor Survey.
The survey was designed to gauge investors' manager and style allocation preferences, analysis procedures and identify overall trends within the hedge fund and alternative investment industry. Respondents included public and private pensions, foundations and endowments, funds of funds, private banks, investment consultants, family offices and high net worth individuals globally.
"Despite a difficult market environment in 2011, investors remain resilient in their convictions that alternatives will outperform in 2012" said Arnold Mintz, President of Asset Alliance and Global Head of Hedgeharbor, "Market challenges, however, underscore the need to engage investors with a solutions-based approach that emphasizes finding managers who not only have investment expertise and stellar track records, but also the infrastructure and capabilities to serve the changing needs and requirements of investors."
"Investors are increasingly turning to smaller managers to find performance" said Mintz, "As several large blue-chip managers faltered this year, we saw interest in managers overseeing less than $100 million under management increase significantly. The percentage of survey respondents who would be willing to look at managers with less than $25 million of assets doubled from last year's responses."
Survey questions address such topics as: favored investment strategies, anticipated future performance of certain strategies, track record and AUM requirements, methods of access, as well as various analytical factors that are most highly regarded throughout the due diligence process.
Some key survey highlights include:

The most respondents believe that Commodity Trading Advisors will be the best performers of 2012.
Investor interest in smaller managers increased greatly from last year.
Investors favored managed accounts over institutional platforms compared to 2010.
An overwhelming majority of investors believe hedge funds will outperform in the coming year, but a slightly larger percentage of investors than last year believe they will underperform traditional asset classes.
Hedgeharbor has made the results of their survey available free of charge via their website http://www.hedgeharbor.com/survey
About Hedge Harbor:
With offices in New York and London, Hedge Harbor undertakes a range of activities including placement services of actively managed funds and direct investments in the alternative investment industry. Hedge Harbor aims to be a leader in the investment product placement business, by bridging the gap between global investment managers and institutional and high net worth clients throughout the world's financial centers. Hedge Harbor Inc. is a member of FINRA. Hedge Harbor Limited is an appointed representative of Asset Alliance International (UK) Ltd., an entity regulated by the FSA.
About Asset Alliance:
Asset Alliance Corporation, founded in 1996 and headquartered in New York, is a privately held company that assists and invests in diversified alternative asset management firms, and provides specialized alternative investment products and services to institutions and high-net-worth individuals. London-based Asset Alliance International (UK), Ltd. continues to expand the firm's global presence through manager research, joint ventures and the development and distribution of specialized products throughout Europe, Asia and the Middle East. For more information please visit http://www.assetalliance.com
###