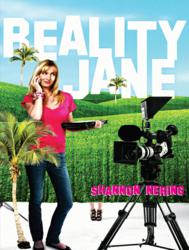 People love to dish, and it's why reality TV is so popular. It's also why this book will be popular.
Vancouver, BC (PRWEB) January 25, 2012
Recently, reality television producer and director Shannon Nering hosted an exclusive launch party, but not for one of her shows—even though the latest, The Real Housewives of Vancouver, premieres in Spring 2012.
According to Catherine Barr's January 19 article in Vancouver newspaper North Shore Outlook, this "glamorous party" celebrates the publication of Nering's Los Angeles-set debut novel, Reality Jane.
"I wanted the experience of getting to make stuff up," says Nering of her debut. "My job, by its very definition, is about real life. And then to write in a style—chick-lit—where there is license to be girly, silly, humorous, and playful really was a joy."
The party was attended by former Miss America contender and hit singer Mary Zilba, model Cea Person, future reality TV star Ronnie Negus, actress Anne Marie Loder, documentary and nonfiction host and producer Dianne Carruthers-Wood, and My Life on the D-List director of photography Josh Moody—Nering's husband.
Nering has spent years in reality television. She's worked on Peak Season for MTV, ratings winner The Week the Women Went for CBC, and The Dr. Phil Show.
Reality Jane is based on Nering's experiences, but according to Barr, Nering emphasizes that protagonist Jane Kaufman is not her alter ego, but rather "a fun character who was designed solely for the entertainment of her readers."
Reality Jane was published by Bancroft Press. It's one of the first works of fiction ever to go behind the scenes of the perpetually popular reality television genre.
"It's real," says Nering of reality television. "The goal of a director and producer is to get out the real you."
But she also emphasizes that the novel, though fiction, dishes out the truth behind reality shows.
"People love to dish, and it's why reality TV is so popular," says Nering. "It's also why this book will be popular."
Leading independent house Bancroft Press has published some of the country's best fiction and nonfiction over the past two decades.
###