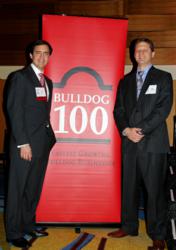 Atlanta, GA (PRWEB) January 25, 2012
Payscape Advisors is among the businesses selected for the third annual class of the Bulldog 100: Fastest Growing Bulldog Businesses. Sponsored by the University of Georgia Alumni Association, the Bulldog 100 is an annual program that determines and awards the 100 fastest growing businesses that are owned or operated by UGA Alumni. Rankings are based on a compounded annual growth rate of revenues for the past three years.
Leo Welf, class of 1995, was the honoree in attendance as President and co-founder of Payscape Advisors. He was presented with an award at the Bulldog 100 celebration January 21st at the Marriott Marquis in downtown Atlanta. Payscape Advisors was recognized as the sixteenth fastest growing company, and this is their third consecutive year to make the Bulldog 100 list.
"I want to thank our excellent team, valuable clients and the UGA Alumni Association. Being among the top 100 Bulldog-run businesses in the country is a great honor for us, and personally for me, as a UGA alum" said Leo Welf, President and Co-founder.
Information about the program, including a complete list of the Bulldog 100 Class of 2012, is available on the UGA Alumni Association website: http://www.uga.edu/alumni/bulldog100. Nominations are now open for the 2013 Bulldog 100.
About Payscape Advisors:
Payscape Advisors is a rapidly growing merchant services provider based out of Atlanta, GA. Since being founded 8 years ago by Payscape's three principles, the privately held company has grown to include a national sales force.
In addition to supplying merchant processing services, Payscape also offers the following financial products and services; credit card processing, check guarantee products, point-of-sale equipment, credit card terminals, atm sales and placement, e-commerce solutions, gift cards, virtual terminal packages, merchant cash advance, an online invoicing system, mobile applications and online registration management.
###