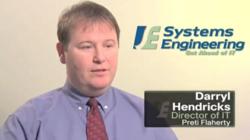 "With SE Secure, we're saving money, and we're also saving time in terms of my staff's resources. It's one thing to have a piece of hardware in place that's monitoring something. It's another thing to have a person who deals with this all the time…"
Portland, ME (PRWEB) January 25, 2012
Systems Engineering, the largest independent and employee-owned IT provider in Maine, has developed a niche in the fast growing managed security applications market with – attracting companies from brokerage, financial, legal and healthcare market sectors – with the introduction of its new IT security service, SE Secure®.
SE Secure, provides a comprehensive security solution to meet the needs of businesses by delivering a layered, policy-based framework using best-in-class technologies to thwart attacks by cyber criminals. Systems Engineering has also introduced an advanced Managed Security option featuring 24-7 monitoring and event correlation for compliance-driven organizations.
"Cyber criminals are getting more and more advanced every day," said Harry McMann, President of Systems Engineering. "The days of 'set-it and forget it' are gone forever. It's becoming extremely difficult for many companies to maintain IT security that is sophisticated and dynamic enough to stay ahead of the threats. For many companies it has become more cost effective to outsource their IT security to providers like Systems Engineering."
Information Week estimates that 55% of businesses experience a fraud attack each year, and the Ponemon Institute estimates that the annualized cost of these attacks varies from $284 per enterprise seat for larger-sized organizations to $1,088 per enterprise seat for smaller-sized organizations. The Systems Engineering portfolio of managed security services protects customers against these costly attacks by providing 24/7 system monitoring, event management, intrusion prevention, vulnerability scanning, content filtering and compliance reporting as well as appropriate response times designed to protect the network and minimize downtime.
"It's very important to our clients that their information stay confidential," said Darryl Hendricks, Director if IT for Preti Flaherty, one of the largest legal firms in Maine. "With SE Secure, we're saving money, and we're also saving time in terms of my staff's resources. It's one thing to have a piece of hardware in place that's monitoring something. It's another thing to have a person who deals with this all the time to understand what that information means."
In the event of an incident, Systems Engineering's team of security and network experts has the information and tools necessary to solve the problem quickly, to restore business productivity and to minimize any damage to a client's reputation.
About Systems Engineering
Systems Engineering, the largest independent and employee-owned IT provider in Maine, is a Northern New England-based information and communications technology consulting company with nearly 100 business technology professionals on staff serving businesses throughout Northern New England for over 20 years. As a leading IT strategy and services leader, Systems Engineering IT professionals have provide comprehensive business technology products and solutions to more than 500 companies and organizations throughout Northern New England. Systems Engineering's team of technical experts, network engineers, field service professionals, and account managers are available 24/7, 365 days per year. From computer network design, installation, training and administration to a full complement of data management, security, business consultation, and outsource CIO services, Systems Engineering helps business get ahead of IT. Notably, Systems Engineering is 100% owned by the employees of the company. For more information, please visit http://www.syseng.com or call 207-772-3199.
###