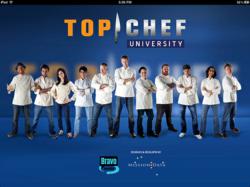 Many apps boast culinary instruction but none can compare to the quality and entertainment value of the Top Chef University app.
Louisville, KY (PRWEB) January 25, 2012
Mission Data, a leading mobile app design and development firm, and TVVT LLC, creators of Top Chef University, announced a partnership that brings together their complementary areas of expertise to produce for culinary lovers worldwide a comprehensive set of digital tools of the trade.
"We are thrilled to be entering the mobile app space with a fantastic partner in Mission Data, who combine app design, development and general savvy in the app marketing space," said Jeff Goldenberg, TVVT's Co-Founder. "We look forward to launching more culinary apps with Mission Data in the near future".
The first result of the partnership is the Top Chef University iPad app which showcases 11 of the most successful Top Chef chef'testants from the popular Bravo television series and features more than 200 interactive lessons and more than 60 hours of video content.
"The courses and content have been designed for anyone who wants to improve their cooking skills and gain confidence in the kitchen. Whether you're a complete beginner or someone with more experience there's in-depth lessons for everyone - it's a complete program with insight from real, professional chefs." commented Anthony Hoy Fong, Top Chef University's co-creator and Culinary Director.
With the Top Chef University iPad app, users learn professional cooking techniques and methods from former Top Chef chef'testants. The app downloads with access to 28 hand-picked lesson videos. The 20-course program spans the basics from how to prep your kitchen, stock it, equip it and set it up to advanced techniques such as cooking global cuisines, desserts and baking fresh bread at home. Users learn the Top Chefs' secrets, favorite dishes, go-to recipes, and the skills every home chef should master. Fans of the TV series will learn the chef's most memorable moments from the show.
"TVVT spared no effort in producing lesson and video content which is world-class and worthy of the Top Chef brand," said Stuart, Gavurin, CEO, Mission Data. "Many apps boast culinary instruction but none can compare to the quality and entertainment value of the Top Chef University app".
The Top Chef University iPad app is akin to having a personal culinary instructor next to you in the kitchen. It's great for beginners to accomplished home chefs who wish to take their skills to the next level. Learning how to cook has never been more fun and convenient.
Key features and functionality include:

The Top Chef University culinary program is made up of 20 courses, each comprised of a set of over 200 individual lessons with over 60 hours of instructional video for additional purchase
Purchase individual course, lessons or the complete program based on your needs
Browse lessons by Chefs, interactive video lessons are hosted by 11 of he most successful Top Chefs. Learn more about each Chef or browse all of their lessons and recipes
Search for lessons by Chef, cooking techniques, type of food or cuisine, and by level of difficulty
Each lesson provides detailed directions, recipes and techniques, definitions for cooking terms and tools and a place to make personal notes on each lesson
Track progress by identifying the Top Chef lessons mastered, test knowledge gained with the app's 20 quizzes and tag favorite lessons
View lesson videos in high definition on an iPad or on HDTV using AirPlay and an Apple TV
Download in the iTunes app store.
About Mission Data, LLC
Mission Data is a Louisville-based services company focusing on the strategy, design, development and management of Web and mobile solutions. Since its inception in 1996, the company has been at the forefront of the application of interactive strategies and Internet technologies in support of the needs of businesses.
With a reputation for top-tier expertise and delivery, Mission Data proudly provides services on a national basis to a broad range of businesses. The companies served are primarily growing and innovative small and medium sized enterprises. However, Mission Data consistently maintains a strategic partnering relationship and provides services to several Fortune 1000 companies.
About TVVT, LLC
Top Chef University is the leading, comprehensive online culinary program on the web and on your mobile device.  Based on the Emmy Award winning show Top Chef, Top Chef University features over 60 hours of video lessons from 11 of your favorite Top Chef Chef'testants. Top Chef University is licensed to and produced by TVVT, LLC. Contact TVVT: Jeff Goldenberg (jeffgoldenberg@gmail.com) for business development and Anthony Hoy Fong (anthony(at)hfmculinary(dot)com).
###