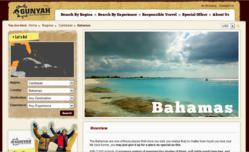 We wanted to convey the authenticity and inspiration of our short breaks from the moment users started researching their trips, something that combined the spontaneity of independent travel with the comfort of a package holiday." – Luke Ford
Nassau, Bahamas (PRWEB) January 25, 2012
Over the weekend, the TravelMole Caribbean Web Awards 2012 singled out several websites for their excellence in online travel. Although it did not receive top honors, Gunyah.com, the online marketplace for authentic local travel experiences and short-break holidays and vacations, was shortlisted in the Tour Operator category.
Unlike most travel awards, the Caribbean Web Awards 2012 focused on the websites that represent the travel companies, not the travel companies themselves. According to the Caribbean Web Awards website, special attention was given to best practices in online marketing with an eye toward recognizing websites with excellent graphic communication, superb online copy and salesmanship, and laudable examples of strategies and techniques for enhanced site conversion.
Through its recently launched online presence, designed with all of this in mind, Gunyah offers memorable short-break package holidays and vacations managed by a dedicated network of passionate people all around the world. With locals in every destination and a clear responsible travel policy, Gunyah is more in tune with what makes a truly authentic local travel experience.
"We wanted to convey the authenticity and inspiration of our short breaks from the moment users started researching their trips, something that combined the spontaneity of independent travel with the comfort of a package holiday," commented Luke Ford, CEO of Gunyah, about the unique look and feel of Gunyah.com. "The experience begins from the moment they start corresponding with our local operators. We wanted the navigation functionality to be simple and so it's search by destination, but we also wanted to include a search by experiences for those looking for, for example, diving or a cultural break. We were thrilled to have been shortlisted."
At the present time, Gunyah lists 170 short breaks in 46 countries with an additional 600 contracted or under construction. Gunyah is working with 83 local partners in a total of 78 countries. The short breaks – all of which consist of carefully selected accommodation, tours and activities – average four to six days in duration, but can also extend to 12 days.
"We are only at the early stages with product development in the Caribbean, but this attention from the Caribbean Web Awards provides us with even more motivation to include more fascinating destinations in the region," added Ford. "We have some amazing experiences in San Salvador, Bahamas, with diving, fishing, nature and eco walks, history and adventure, something for everyone! Our local partners in the Bahamas deserve credit for all of their hard work developing such unique experiences."
The TravelMole Caribbean Web Award winners were announced on the eve of the Caribbean Marketplace held in Nassau, Paradise Island, Bahamas. In their second year, the awards were run by the Caribbean Hotel and Tourism Association in association with TravelMole, one of the largest online travel trade communities in the world, and LeadGenerators, the UK's specialist online marketing agency for the travel industry.
The awards were presented by TravelMole's Graham McKenzie, who praised the shortlisted websites but called for a stronger focus on online marketing within the Caribbean: "With the obvious exception of the shortlisted sites, the general standard of nominations were very poor and for the benefit of all really needs to improve. The importance of a good online presence for all tourism businesses cannot be overstated and at this time many do not make the most of the opportunities presented."
About Gunyah
Gunyah offers hundreds of package holidays, vacations and tours in countries all around the world, including developed markets in North America, Western Europe and Australia, and emerging-market economies across Africa, Asia, South America and elsewhere in Europe. Gunyah's goal is to evoke an authentic experience through each package by connecting travelers to the people, communities, food and culture of each destination.
For more information, visit http://www.gunyah.com or contact Luke Ford, luke(at)gunyah(dot)com.
###