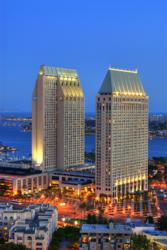 The renovation will enhance the exceptional service and amenities that guests of the hotel have come to expect...
San Diego, CA (PRWEB) January 25, 2012
Manchester Grand Hyatt San Diego will present the grand redesign of its guestrooms to select meeting planners attending the Professional Convention Management Association's (PCMA) 2012 Convening Leaders meeting in San Diego. Slated to begin in May 2012 and completed in fall 2013, the entire downtown San Diego hotel will be renovated, including meeting and public space, as well as food and beverage outlets and guestrooms.
New Guestrooms at the San Diego Luxury Hotel
The new guestrooms, suites and Grand Club Rooms will become intimate spaces offering a timeless urban feel with subtle nods to the maritime lifestyle at the heart of San Diego. Tailored details will include warm teak wood tones contrasting crisp white and color tones that change with the movement of the sun across the sky. All guest rooms will receive new carpeting, curtains, wall coverings, bed coverings, lampshades and wall art. New paint and wallpaper will give the bathrooms a fresh look as well. The guestroom corridors will also have fresh carpet and new wall coverings, and the hotel's public areas will also be updated.
The new owner of Manchester Grand Hyatt San Diego, a subsidiary of Host Hotels & Resorts, Inc. purchased the 1,625-room property in March 2011 for $570 million. The original tower of the hotel opened in 1992, and the second tower was launched in 2003.
Upgraded Meeting Spaces, Same Great Services and Amenities
"Meeting planners and attendees have our guarantee we will continue to provide exceptional, authentic hospitality as we transition this San Diego landmark," said John Schafer, vice president, managing director, Manchester Grand Hyatt San Diego. "The renovation will enhance the exceptional service and amenities that guests of the hotel have come to expect. We are very appreciative of our owner's commitment to Hyatt and are thrilled to have a long term agreement to manage the hotel."
Manchester Grand Hyatt: A Vital Downtown San Diego Tourist Attraction
The renovation of the downtown, waterfront Hyatt coincides with several recent, positive actions that cumulatively will play a vital role in the future of San Diego's tourism industry, including the current $1 billion airport expansion and the planned $29.6 million North Embarcadero improvement project.
"Host is excited about our growing role in San Diego's dynamic tourism industry," said Minaz Abji, executive vice president of asset management with Host Hotels & Resorts, Inc. "We are very optimistic about the region's continued success and pleased to be working with Hyatt in serving the area."
"Having Host own and Hyatt operate one of San Diego's premier convention hotels is good for the city," noted San Diego Mayor Jerry Sanders. "The success of these hospitality-industry icons speaks for itself. Both organizations have outstanding reputations and are important partners in the citywide effort to sustain and grow San Diego's vital tourism industry."
With this relationship, both Hyatt and Host continue to increase their presence in San Diego. Since 2010, Hyatt has added Park Hyatt Aviara Resort, Andaz San Diego and Hyatt Summerfield Suites San Diego/Carlsbad to its roster of longtime San Diego properties: Hyatt Regency Mission Bay Spa and Marina, Hyatt Regency La Jolla and Manchester Grand Hyatt. Host's acquisition of Manchester Grand Hyatt brings the number of San Diego area hotel rooms it owns to over 4,600.
About Manchester Grand Hyatt San Diego 2011
Located on the Gaslamp Quarter's waterfront, Manchester Grand Hyatt San Diego overlooks San Diego Bay and many rooms offer spectacular views of the Pacific Ocean too. This urban resort defines San Diego's skyline and is comprised of two stylish towers, the 33-story Seaport Tower and the 40-story Harbor Tower, the latter of which is 497-feet tall, making it the tallest building on the west coast waterfront. Connecting the two towers is a four-story building that boasts a rooftop pool with a 25,000 square-foot deck. The stylish Hyatt includes 95 one-and-two-bedroom suites, Kin Spa with a full-service salon and an adults-only pool at adjacent Kin Oasis, tennis courts, bay-view pool and deck, a fitness center and several award-winning restaurants and lounges –most all overlooking the bay. It is adjacent to Seaport Village, near Horton Plaza and convenient to San Diego International Airport, San Diego Zoo and Sea World. For more information, call (619) 232-1234 and visit http://www.ManchesterGrand.Hyatt.com. The hotel's latest news, special offers and information on upcoming events is also found at http://www.facebook.com/manchestergrandhyattsd on twitter @ManchGrandHyatt.
About Host Hotels & Resorts
Host Hotels & Resorts, Inc. is an S&P 500 and Fortune 500 company and is the largest lodging real estate investment trust and one of the largest owners of luxury and upper-upscale hotels. The Company currently owns 105 properties in the United States and 16 properties internationally totaling approximately 65,000 rooms. The Company also holds non-controlling interests in a joint venture in Europe that owns 13 hotels with approximately 4,200 rooms and a joint venture in India that is developing seven hotels in three cities with approximately 1,800 rooms. Guided by a disciplined approach to capital allocation and aggressive asset management, the Company partners with premium brands such as Marriott®, Ritz-Carlton®, Westin®, Sheraton®, W®, St. Regis®, Le Meridien®, The Luxury Collection®, Hyatt®, Fairmont®, Four Seasons®, Hilton®, Swissotel®, ibis®, Pullman® and Novotel®* in the operation of properties in over 50 major markets worldwide. For additional information, please visit the Company's website at http://www.hosthotels.com.
Note: This press release contains forward-looking statements within the meaning of federal securities regulations. These forward-looking statements are identified by their use of terms and phrases such as "anticipate," "believe," "could," "estimate," "expect," "intend," "may," "should," "plan," "predict," "project," "will," "continue" and other similar terms and phrases, including references to assumption and forecasts of future results. Forward-looking statements are not guarantees of future performance and involve known and unknown risks, uncertainties and other factors which may cause the actual results to differ materially from those anticipated at the time the forward-looking statements are made. These risks include, but are not limited to: national and local economic and business conditions, including the potential for terrorist attacks, that will affect occupancy rates at our hotels and the demand for hotel products and services; operating risks associated with the hotel business; risks associated with the level of our indebtedness and our ability to meet covenants in our debt agreements; relationships with property managers; our ability to maintain our properties in a first-class manner, including meeting capital expenditure requirements; our ability to compete effectively in areas such as access, location, quality of accommodations and room rate structures; changes in travel patterns, taxes and government regulations which influence or determine wages, prices, construction procedures and costs; our ability to complete acquisitions and dispositions; and our ability to continue to satisfy complex rules in order for us to remain a REIT for federal income tax purposes and other risks and uncertainties associated with our business described in the Company's filings with the SEC. Although the Company believes the expectations reflected in such forward-looking statements are based upon reasonable assumptions, it can give no assurance that the expectations will be attained or that any deviation will not be material. All information in this release is as of the date of this release, and the Company undertakes no obligation to update any forward-looking statement to conform the statement to actual results or changes in the Company's expectations.

This press release contains registered trademarks that are the exclusive property of their respective owners. None of the owners of these trademarks has any responsibility or liability for any information contained in this press release.
# # #