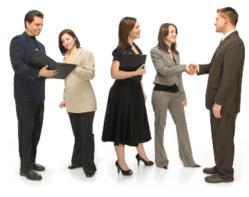 International conference attendance is high on Fellows and Associates' list of priorities.
London, UK (PRWEB) January 30, 2012
In line with previous years, Fellows and Associates will once again be represented at the INTA Annual Meeting. Unlike other years, this year they will be sending three delegates rather than two: Pete Fellows, Michele Fellows, and Emma van Opstal.
"I'm very excited to be attending INTA again," says Director Michele, who couldn't attend last year's conference. "It has been a tremendously positive experience for us in the past."
International conference attendance is high on Fellows and Associates' list of priorities. Whenever possible, they aim to attend INTA's Annual Meeting as well as AIPPI's World Intellectual Property Congress.
"We have been able to build a network unlike that of any of our competitors because of the international angle," adds Pete, Managing Director. "To our knowledge, we are the only UK-based IP recruiters to attend large industry conferences abroad. I started going because I believed it would open up new perspectives for international expansion, which it did. Surprisingly, I found that it has also helped us with our UK-based recruitment. As it turns out, the IP sector is such a small world that we cannot afford to limit ourselves by focusing our efforts solely on the UK."
As much as they attend for business reasons, conferences are by no means a chore for the trio. "We're lucky this year, because not only are there two major conferences, they are both in very exciting locations," says Emma. "As a consultant, conference attendance is definitely one of the main perks of my job. It's hard work, but great fun as well. This year we're jetting off to Washington DC, and to Incheon, in South Korea."
One of the most important events in the Trade Mark calendar, INTA's Annual Meeting will take place in Washington DC from the 5th to the 9th of May 2012.
About Fellows and Associates
Fellows and Associates recruit Patent Attorneys, Trade Mark Attorneys, IP Lawyers and other Intellectual Property professionals worldwide. The firm offers a diverse range of recruitment services including search, advertised selection and managed campaigns. Its newly launched consultancy division 'Fellows Business Consulting' offers targeted strategic advice to firms within the Intellectual Property sector worldwide. See fellowsandassociates.com for more or phone +44 207 903 5019.
Fellows and Associates' Managing Director Pete Fellows has over a decade's experience in the recruitment industry and has recruited positions in locations such as Russia, Australia, the UK, Hong Kong, Singapore and the United States. More recently he has been responsible for moving Partners of major firms of Patent Attorneys to positions worldwide.
Michele Fellows is at the helm of Fellows Business Consulting. She is a qualified Chartered Management Accountant with over 15 years' experience in financial and operational roles including strategy development and implementation. In her position as a Director at Fellows and Associates, she has developed a considerable knowledge of the Intellectual Property sector. For more information, please contact Michele at michele(at)fellowsbusinessconsulting(dot)com.
###