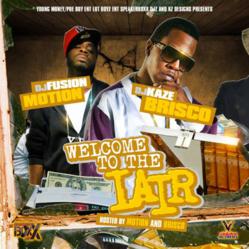 Miami, FL (PRWEB) January 24, 2012
Violator All Star DJ Fusion recently released the mixtape "Welcome to the Lair." Coast 2 Coast presents the project along with Young Money/Poe Boy Entertainment, Lot Boyz Ent, and Speakerboxx DJz. Hosted by Brisco and Motion, it is now available for free download. "Welcome to the Lair" features Brisco and Motion on tracks along with other guest artist appearances from Lil Wayne, Yung Trap, Fetti Clap, Three 6 Mafia, Shanell, and more.
Shay Newman, aka DJ Fusion is an award-winning Violator All-Star DJ whose talent on the turntables and truly remarkable mixing skills have earned him the reputation as one of the top, club-packing DJs in the world. Fusion's mixes have been heard internationally on Sirius XM Radio along with several terrestrial stations nationally. His experience, talent, and artist relationships provide him with access to the newest and most music (both local and international) of any DJ coast to coast. Fusion is also a resident DJ for Extreme Foam Parties, regular host of weekly mix shows on 93.1 JAMZ (WJQM) and 95.9 KISS FM (WKSZ), in addition to his regular appearances on SHADE 45 / G-Unit Radio – Big Sundays with Miss Mimi.
Opa-locka, Florida artist Brisco has been on the grind since 2001 and has racked countless mixtapes under his belt, some prominent ghostwriting on his resume, and standout cameos on projects by Lil Wayne, Birdman, Rick Ross, DJ Khaled, and Flo Rida. He has also created Down-South smash hits like "On the Wall," "Bitch I'm Me," and "I'm in the Hood" all featuring Lil Wayne. A well-rounded lyricist who covers all life's aspects, "Dade County's Young Don" spits on many of society's ills as well as overcoming adversity and struggle.
Motion, aka Mr. 608, is known as a raw lyrical genius on the mic throughout the streets. Representing Madison WI, Motion is known for his club bangers. Motion has not only performed with one of the top Southern rap groups, Three 6 Mafia, but has also collaborated with many other top known artists like Crucial Conflict, Twista, 50 Cent, Rap A Lot Family, Bizzie Bone from Bone Thugs-N-Harmony, Petey Pablo, Zion 1, Profound, Gucci Maine, Juvenile, and many others. Motion's music represents his true-life experiences and today's problems from the streets prospective with an uptempo vibe.
"Welcome to the Lair" is available for free streaming and download at http://coast2coastmixtapes.com/mixtapes/mixtapedetail.aspx/welcome-to-the-lair-hosted-by-brisco-briscoopalocka-iammotion-kingfusion-therealdjkaze
###