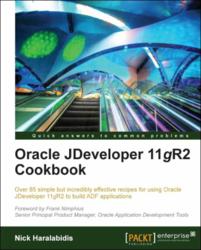 UK (PRWEB) January 26, 2012
Birmingham: Packt Publishing, one of the world's leading publishers of Oracle books is pleased to announce the publication of Oracle JDeveloper 11gR2 Cookbook, a practical, task-based book, which has been developed to magnify the practical application of JDeveloper 11gR2. Written by Nick Haralabidis, this guide enables the creation and usage of generic extension interfaces, service-enabling Application Modules and shared Applications Modules.
Oracle JDeveloper 11gR2 Cookbook is a practical guide, designed to demonstrate advanced techniques for deploying, debugging, testing, profiling and optimizing Fusion Web ADF Applications with JDeveloper 11gR2.
After reading this extensive cookbook, readers will not only be able to master task flow techniques, but also work with view objects, list-of-Values, bind Variables and view criteria. This book will help equip JavaEE developers who want to go beyond the basics of building ADF applications with the practical knowledge of a range of ready to use implementation cases which can be applied to your own Fusion Web ADF Applications.
Technical reviewer and Senior Principal Product Manager of Oracle Application Development Tools - Frank Nimphius - says: "This book is a practical guide to learning Oracle ADF, providing code solutions, and technical explanations to common Oracle ADF questions and developer challenges. I appreciate the time, effort, and dedication Nick Haralabidis has put into writing this book, as well as the Oracle ADF expertise and practices he shares with the reader."
Packt Publishing is one of the world's leading Publishers of Oracle titles. To date it has published more than 70 Oracle books across a wide variety of areas including the Database, Fusion Middleware and Business Applications. Titles include:
Oracle ADF Enterprise Application Development—Made Simple
Processing XML documents with Oracle JDeveloper 11g
JDBC 4.0 and Oracle JDeveloper for J2EE Development
The complete Oracle catalogue can be found on the Packt website. Packt Publishing offers all titles in both hardcopy, eBook, Kindle, and online Library formats.
# # #