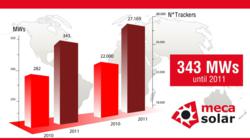 (PRWEB) January 25, 2012
MECASOLAR, a multinational company that designs, manufactures and supplies solar trackers, fixed structures and foundation screws, delivered 5,169 solar trackers, equivalent to 61.4 MW, and fixed structures for 203 PV solar projects in 2001. Italy, Spain, US, Canada, Greece and UK were MECASOLAR's main markets. The firm's solar trackers and fixed structures have also been installed in solar PV plants in France, Australia, Colombia, Egypt, Libya, Algeria, Turkey, China, Lithuania, Sweden and Portugal. In fact, of the company's total sales in 2011, 85% were exports.
MECASOLAR relies for commercial and technical support on PROINSO's International Network of Qualified Installers, which has 1,900 members offering their services to customers in more than 60 countries. Thanks to the 2011 figures, MECASOLAR reached a total of 343.4 MW supplied since it was established in 2005. The amount is equivalent to 27,169 solar trackers manufactured and installed. Currently, the company's single- and dual-axis solar trackers and its fixed structures can be found in 498 solar PV farms around the world.
The multinational company has manufacturing plants in Spain, Italy, Greece, US and Canada, and branches in UK, Germany, France and China.
According to MECASOLAR sources, Brazil, Mexico, South Africa and India are the target markets where the company is planning to start operating in the near future. Also, the firm is considering product diversification strategies to include other solar technologies using tracking systems.
Specifically, throughout 2012, MECASOLAR will focus mostly on the recently launched 114.4 kWp polar aligned tracker. The new product is modular and scalable, and can be assembled on site, which 'allows for easy transport and installation and reduces costs down to those of fixed structures approximately,' sources said.
Management sources have announced the upcoming launch of new products that 'improve the PR of installations, thus making them more profitable.
Corporate Information
MECASOLAR http://www.mecasolar.com
MECASOLAR specialises in the design, manufacture and supply of single- and dual-axis solar trackers, fixed structures and foundation screws for solar PV facilities. It has manufacturing plants in Spain, Italy, Greece, Canada and the USA.
All MECASOLAR devices use cutting-edge technology. Its dual-axis trackers can increase solar PV energy generation by over 35% as compared to fixed installations. Its single-axis azimuth trackers improve output by 28% as compared to fixed structures and need a comparatively small space — 2.51 ha/MW (6.2 acres/MW). The company also manufactures fixed structures that can adapt to all kinds of surfaces and power. Together with the universal foundation screw MECASCREW, they provide customers with a global solution.
The MECASOLAR single-axis polar tracker, launched in December 2011, has a capacity of 114.4 kWp, improving PR and reducing investment per Wp, thus increasing the profitability of installations.
###