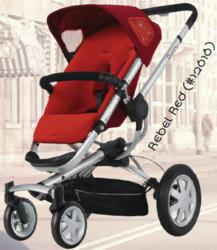 Bubs N Grubs offers free delivery on the Quinny brand anywhere in Australia
Brisbane, Queensland Australia (PRWEB) January 26, 2012
Bubs N Grubs announces the addition of the Quinny Range of Prams and Strollers to their product line up. The popular brand is a welcomed addition to the already extensive selection of baby prams and furniture that is offered by Bubs N Grubs at an affordable rate. Consumers interested in this product can order it online through this link - Quinny.
Bubs N Grubs has been serving Australia with the best prices and packages on baby prams and baby furniture since 2006. Since then the company has grown and added new products to their line in order to provide consumers with the best options available. The addition of the Quinny Range of Prams and Strollers is just another example of their commitment to excellence. They are offering these in all models and colors. These products are currently in stock and available for live demonstration in the store by their trained professional consultants.
Bubs N Grubs offers free delivery on the Quinny brand anywhere in Australia at the moment. Additionally, they are offering a package deal featuring any Quinny Pram or Stroller combined with a Max-Cosi Baby Capsule as a travel system. The new product range from Quinny includes the Quinny Buzz 3 and Quinny Buzz 4 Pram available in three wheeler or four wheeler style as well as the new Quinny Zapp Xtra which is a lightweight compact folding stroller for newborns. The Quinny Buzz, Quinny Zapp Xtra and Quinny Senzz and the full line of products are all compatible with Maxi-Cosi baby capsules. Maxi-Cosi product information is available by clicking on this link Maxi-Cosi Mico. Consumers who are unsure of which item to choose can explore the reviews available on the Bubs N Grubs website or visit the store to converse with one of the knowledgeable sales professionals.
ABOUT BUBS N GRUBS
Bubs N Grubs is the lowest cost retailer for baby supplies in Australia. The company offers a full selection of nursery furniture to fit any style or taste. Additionally, Bubs N Grubs reviews products and offers special packages for grouping certain products together for purchase. Find more information by visiting http://www.babynurseryonline.com.au.
For more information on the Quinny Range of Prams and Strollers or other items offered by Bubs N Grubs, contact Judy or Heather via email at sales(at)bubsngrubs(dot)com(dot)au or phone at +61 7 3902 1350.
# # #