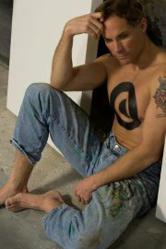 Portland, Oregon (PRWEB) January 26, 2012
Portland-based artist Jeff Houghtaling is thinking beyond the canvas, better yet, beyond the studio. Using current technology and the popularity of social media, Houghtaling is inviting the global public to participate in his collaborative new work entitled The Disconnect Project. With its accompanying blog site http://www.thedisconnectproject.com, Houghtaling invites all to share their personal struggles or triumphs with separation, divorce or loss through death which will then be interpreted into symbol or image and included in a unified large-scale diptych. The piece will be completed on July 31st, 2012 with a gallery showing to follow.
Following the dissolution of an eight-year partnership, Houghtaling sought a source to help him come to terms with the relationship's dissolution. The artist found no such site and decided to create a hub where the disconnected could share, be heard and listen and be connected to an understanding community. "It was about healing and processing, learning and moving on," stated Houghtaling. The disconnect project is also a record of the human experience including thoughts, memoirs, significant songs or lyrics, poems, and stories from friends, family, and the community. Although the physical culmination of the project will end this July, The Disconnect Project website will continue on as a source of solace, inspiration and resources to all those who visit.
Houghtaling is a graduate of Portland State University's Department of Fine Arts and a current member of their Alumni Board. His work is frequently selected as Honorable Mention in the Cascade Aids Project's annual fundraising event and he has published a children's book, Lois and Her Magic Crown, which helps children learn and understand the primary and secondary colors.
###