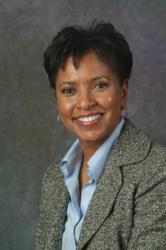 Denver, CO (PRWEB) January 25, 2012
The Denver Foundation announces the election of four new members to its Board of Trustees. They are:
Jandel Allen Davis, MD Kaiser Permanente Colorado
Cole Finegan Hogan Lovells
Joyce Nakamura Hall & Evans
Bruce Schroffel University of Colorado Hospital
Dr. Jandel Allen-Davis is board certified in obstetrics and gynecology, and after 25 years of taking care of patients, transitioned from a physician leader to Kaiser Permanente's Health Plan leadership team. Her past roles at Kaiser Permanente include associate medical director of external relations for the Colorado Permanente Medical Group, regional director of patient safety, and physician chief of the Wheat Ridge Medical Offices. She was elected to the Colorado Permanente Medical Group board of directors in 1998 and chaired the board in her final year.
Dr. Allen-Davis is an active participant on community boards. She is currently serving her second term as a member of the Colorado State Board of Medical Examiners and assumed the role of president of the board in May 2009. She is a member of the CU Foundation Board of Directors, vice chair of the Center for Improving Value in Health Care Board of Directors, the Center for Women's Health Research Board of Directors, March of Dimes Board of Directors, Colorado Association of Health Plans Board of Directors, Colorado Succeeds Board of Directors, Denver Botanic Gardens Board of Trustees, and is president-elect of the Denver Metro Chamber Leadership Foundation Board of Directors.
Cole Finegan is the Managing Partner of Hogan Lovells' Denver office. Prior to joining the firm, Cole served in dual positions as Denver's City Attorney and Chief of Staff to Mayor John Hickenlooper. During his tenure as City Attorney, Cole reorganized the office of 100 lawyers for the first time in 20 years, which saved the city more than US$1 million by cutting outside legal services and expanded the city's capabilities to try its own cases. As Chief of Staff, he led the successful campaign to change Denver's charter to add a Chief Financial Officer and to modernize the city's 100-year-old financial services structure. In private practice and in public life, Cole has been involved in almost every major private-public partnership in Denver, including the redevelopment of Stapleton Airport, the Gates Rubber Company facility, and most recently Denver Union Station.
Joyce Nakamura works with individuals in the design of their estate plans incorporating estate tax planning and charitable planning techniques at Hall & Evans. She works with employers in the selection and implementation of employee benefit plans and represents employers and plan sponsors in litigation involving ERISA plans. She is a Planned Giving Ambassador for the LMC Foundation and serves on the boards of the Denver Public Library Friends Foundation and the American Lung Association as well as a volunteer for the Dumb Friends League and a graduate of the Colorado Association of Commerce and Industry "50 for Colorado Program".
Hall & Evans has been assisting individuals in all aspects of trusts and estates law, including, designing and implementing their estate plans so that they may efficiently pass their estates, including closely-held business interests, to their family members and other beneficiaries.
Bruce Schroffel has worked in health care administration for more than 30 years leading and managing large, complex academic health care organizations. He started his healthcare career in New York, at Motefiore Medical Center and the Albert Einstein College of Medicine. From there, he was recruited to the Medical Center at the University of California, San Francisco (UCSF Medical Center). In 1997 he was named Sr. Vice President and Chief Operating Officer for UCSF Medical Center, Moffet/Long and Mount Zion Hospital. In 2001, he was tapped to be the Director and CEO of Stony Brook University Hospital—a 504 bed academic medical center located on Long Island in New York. On January 17, 2006, he became the President and CEO of University of Colorado Hospital. He has served on many boards, including the University Health System Consortium, the Greater New York Hospital Association, AAMC Council of Teaching Hospitals, TriWest, Colorado Hospital Association and many others. He holds an undergraduate degree from Berkeley and two graduate degrees from Columbia University.
About The Denver Foundation: The Denver Foundation is a community foundation dedicated to improving life in Metro Denver through philanthropy, leadership, and strengthening the community. Last year, the Foundation awarded over $47 million in grants. The Denver Foundation has three primary roles: stewarding an endowment to invest in meeting current and future needs for the Metro Denver community, managing over 900 charitable funds on behalf of individuals, families and business, and working with community and philanthropic leaders to address core challenges that face Metro Denver. For more information, visit http://www.denverfoundation.org.
# # #