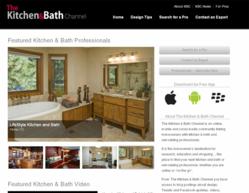 Very excited to see the Kitchen and Bath Channel profile local independent firms that are options for us, give us information about their past projects, referrals, tips and all the considerations we need to make in those critical first steps
Chapel Hill, NC (PRWEB) January 25, 2012
The Kitchen & Bath Channel announced today the recently launched website http://www.kitchenbathchannel.com has established itself as a consumer destination offering homeowners an alternative to the "big boxes" for their kitchen and bath remodeling projects.
Developed and designed as an educational and informational site, the Kitchen & Bath Channel features photography, videos, blogs, articles and links to additional data from participating professionals. Homeowners can also contact an expert to ask questions specific to their remodeling project, budget and lifestyle. In addition, the site provides a locator services with access to over 15,000 independent kitchen & bath and remodeling professionals throughout the United States, searchable by zip code, type of project, professional expertise and more.
According to one of the thousands of Kitchen & Bath Channel users, Teresa of Cary, NC wrote, "My husband and I have talked about remodeling our kitchen a number of times over the years but we just dismiss the idea because our time is so limited. There is no part of a remodel project we want to manage ourselves. So choosing a trusted design firm to help us understand our choices within our budget and having them taking the time to make us feel comfortable we are in the best hands possible is critical to us. But where do you start to find these firms? That is where The Kitchen & Bath Channel comes in. Very excited to see the Kitchen and Bath Channel profile local independent firms that are options for us, give us information about their past projects, referrals, tips and all the considerations we need to make in those critical first steps. It's all right there even down to a mobile app that directs us to the doors of those in our area!"
Partner and co-founder Philip D. Zaleon said, "We created an online and mobile research tool for the consumer looking for an alternative to their neighborhood big box. Many homeowners today are seeking the local high touch & high quality service alternatives. Remodeling projects are daunting and confusing, and homeowners are going online and mobile to do their research. What they may not know is that there are tens of thousands of professionals who offer knowledge, education and specialization in kitchen & bath remodeling – in most cases offering better value than the other guys. The tandem of the Kitchen & Bath Channel website and app provides a powerful tool to the consumer; research & shopping."
In addition to the website, The Kitchen & Bath Channel consists of a popular YouTube Channel, Facebook page, Google+ site, Twitter account and smart phone apps for the iPhone, Android and BlackBerry platforms.
###