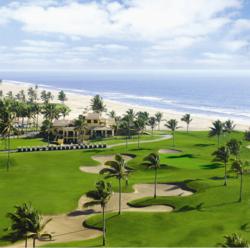 We are committed to helping our local neighbors, and education is essential to building healthy, thriving communities
Aurora, CO (PRWEB) January 25, 2012
This weekend, January 27-28, 2012, golfers from Mazatlan and cities around Mexico, the US and Canada, will come together for two rounds of fundraising golf at the Mazatlan Resort of Estrella Del Mar, home to an 18-hole championship golf course designed by the legendary Robert Trent Jones Junior and rated one of the best golf courses in Mexico.
With the inaugural event in 2006, the Estrella Del Mar Charity Golf Classic has become a permanent fixture on the golfing calendar of many golfers for a number of reasons:
1. Location and quality: Situated just 10 minutes from the Mazatlan International Airport on the peaceful and secluded Stone Island peninsula, and set alongside 3½ miles of pristine beach, Estrella Del Mar is a premier 816 acre master-planned Mazatlan real estate community and vacation destination. Golfers have the opportunity to play a superb layout offering lush tropical landscaping, breathtaking scenery and with six of the holes & fairways situated right off the beach. Estrella Del Mar Golf Course received the ultimate accolade by hosting the Canadian Tour's Mexican PGA Championship in May 2011.
2. "Chance to Win": While there are trophies for the first three places in each flight, a big attraction is the opportunity to win one of the many prizes on offer for getting Closest to the Pin on any one of the 4 par-three holes. In fact, there are 21 prizes in all, ranging from 20,000 Pesos cash prizes, 3-night stays at Mazatlan hotels and resorts, up to $1,000.00 in green fees, plus the chance to win a brand new car for a hole in one on the 13th hole.
3. Raising money to provide scholarships for kids in Mazatlan: Ultimately however, it is the ability to raise money through entry fees and other donations, and thereby provide scholarships for children in Mazatlan who would otherwise be unable to continue or pursue further education.
Pat Butler, CEO and chairman of Denver-based Club Acquisition Company (CAC) which acts as managing partner of Estrella Del Mar and oversees all aspects of the resort property, development and operations, believes very strongly about giving back to the community. "We are committed to helping our local neighbors, and education is essential to building healthy, thriving communities", he said. "Our goal is to help as many students as possible to realize their dreams – the first is access to learning".
There is a formal application process in place in order for a child to become the beneficiary of a scholarship. Kim Anders, Director of Golf at Estrella Del Mar explains: "Children apply to Desarrollo Integral de la Familia (DIF) which is a government assistance entity, of which education assistance for the needy falls under their umbrella. Need and size of the scholarship is determined by the education department who then lets us know who the child is and we write the check for the scholarship. We then get regular reports on how they are doing with their studies".
Over $40,000.00 has been raised and donated through the tournament to-date, with $13,000.00 alone last year. Says Anders: "We are all so proud to be a part of this wonderful program. We have provided desks and a computer lab for a nearby school, and fixed the roof so the students don't have to crowd into a corner when it rains. Four years ago an 8-year-old could not read or even attend school because his vision was so bad. We were able to get him some glasses and now he is at the top of his class. He regularly comes to the Resort to visit us and last time he was here he told me he was going to be a doctor so he could come back and help people in his village. That is what makes us do the tournament!"
While over 120 players have already signed up for the event, there is still room for a few more. The entry fee is 3,500 Pesos which covers two days of tournament golf and one practice round, cart, welcome kit, continental breakfast, and dinner at the award ceremony. For more information or to enter, contact Golf Professional and Operations Manager for Estrella Del Mar, Cesar Gamboa through the resort website http://www.estrelladelmar.com.
For those needing accommodation, there is a special rate of $95.00 per room plus tax for tournament players at the newest Mazatlan Hotel, Wyndham Las Villas Resort, a 68-room oceanfront luxury hotel within the grounds of Estrella Del Mar and which opened in July, 2010.
About Club Acquisition Company:
Club Acquisition Company (CAC) http://www.clubacquisition.com is a resort and residential real estate development firm with global headquarters in Aurora, Colorado. CAC currently oversees and manages land, home and condo sales, hotels, restaurants, golf courses, construction and real estate businesses in Mexico and the United States. More than 2,000 people are employed through these businesses and over 9,000 individual homes, lots, or condos have been sold.
Owner and managing director, J. Patrick Butler, has been recognized as a visionary and real estate pioneer. Mr. Butler made history in the U.S. and Mexico in 1992 by privatizing 35,000 acres of land near the town of San Felipe, Baja, Mexico. Never before had the Mexican Government allowed such a large tract of land to be developed by a U.S. developer.
Mr. Butler has selectively assembled an international management team with extensive experience in land development, marketing, sales, and operating hospitality properties in the United States and Latin America.
###