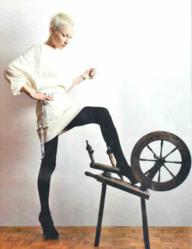 "Our concept with be different and upscale from what is offered in the market place," said Glen Sun, Owner of RIO.
Southampton, New York (PRWEB) January 26, 2012
Rio Home Fashions, an industry leader in basic bedding, memory foam products, memory foam mattresses, and home textiles has signed a licensing partnership with Iona Crawford, a Vogue UK Premier Designer. The venture, crafted by Prince of Scots, will merge technology and fashion for the first time to create a harmonious lifestyle for the home. The Collection will be available in North America and Asia for Fall 2012.
The products, which until now have been purely basic, will receive an infusion of fashion from Iona Crawford's vision of design and color ,which has been inspired by Scotland's natural beauty. The new line will transform basic product into lifestyle collections with more function for the home. What was in the past an additional purchase will now become a primary object of desire. The exclusive new line will be the first fashion venture of this scope into the home linens business.
"Our concept with be different and upscale from what is offered in the market place," said Glen Sun, Owner of RIO, " In a tough economy we will give customers the opportunity to buy smarter. Fashion, basic, comfort, and technology will all be in one product."
Duchess Katherine of Cambridge's personal style has ushered in a new era of romance and glamour. In response, Scottish designers, like Jonathan Saunders, Holly Hunt, Christopher Kane, and more importantly Alexander McQueen, are setting global fashion trends. This renaissance has brought glamour and style back to a stagnant runway. Now Iona Crawford will translate her runway collections to trendsetting home linens.
Iona first brought her inspiring lifestyle look to New York's Fashion Runway via the Dressed to Kilt event in 2011. Her silk Farquhar Dress from the Ailsa Collection was a crowd favorite at the April show. She was nominated for Young Designer of the Year in the 2011 Scottish Fashion Awards, where one judge said: "Her romantic collections will make one want to fall in love again."
Iona's collections are feminine and timeless. The lifestyle captivates one's fashion senses while her textile prints and textures, silk, cashmere, and artistry are all very Iona and very Scotland. The partnership with RIO will be the first Home Collection to bring the Scottish fashion trend to our bedrooms.
Rio Home Fashions will offer a complete line of Iona Crawford basic bedding products including memory foam bed pillows, memory foam mattress pads and toppers, fiber and feather beds, comforters, mattress pads and bed pillows. The partnership will also introduce a lifestyle collection targeted to a younger more modern consumer. Fashion and technology will be merged to provide comfort, luxury, practicality and indulgence for the bedroom. The fashion portion of the collection will draw inspiration from Iona's signature artwork.
"We at Rio feel that we have captured a young designer's ability to bring fresh fashion and color to a category that for years has just been a category ", said Matt Caccioppo, Executive Vice President at RIO.
Prince of Scots, representing Iona Crawford, has introduced the next evolution of the Modern Luxury Lifestyle to the North American market. The Prince of Scots Collection is complimented by luxury brands shaping the future of fashion. The company's brand portfolio includes Iona Crawford, Patricia Brown, Sabina Les, McAlson, Thompson of London, Ermenegildo Zegna, and Jensen Martin.
"We are thrilled to endorse and support Iona on her entry to Home Fashions. Classic design and beauty are a once in a lifetime experience. We are inspired by Iona's vision, sense of style, and commitment to the lifestyle." said Tim Danser, President of Prince of Scots.
RIO's licensing agreement includes the United States, Canada, Mexico, Japan, and China. The Scottish Fashion Trend will now be in homes around the globe.
About Rio Home Fashions
Rio Home Fashions, Inc. is a third-generation family-owned home textiles company. Established 35 years ago in China as a cut and sew factory, Rio Home Fashions has grown to supply almost all the major US textile companies, as well expanding its success by adding its own dedicated and knowledgeable sales team and its own west coast distribution center making it a proven industry leader in manufacturing, marketing, merchandizing, supply chain management and distribution.
About Prince of Scots
Prince of Scots is an exceptional designer, manufacturer, and retailer of top quality consumer products. The company offers a vast global network of sourcing, manufacturing and distribution through strategic partnerships. The "Ultimate Goal" is be Best in Class in everything we do.
About Tim Danser
A Fashion Industry Executive skilled in creating "The Next Big Idea." While a student at West Virginia University, he created the school's first pin up calendar, Faces of WVU. Danser has been credited with many "first" in the industry including "Why Rent When You Can Own Tuxedo" at JCPenney and "Dad Wants Free Gasoline" at Sears.
Singular product innovations included the world's first machine wash/tumble dry suit at JCPenney and the world's first Eco suit at Sears. Serving as Vice-President of Marketing at Bagir International, he has been successful at turning the company around, launching Simon Carter in North America while making creating Red Carpet Brands.
Today Danser brings a new global source of supply, a new business strategy to keep your business competitive, and new designers and new talent which create reasons to buy.
###