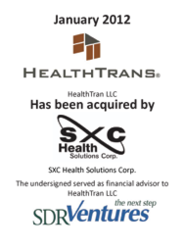 Since 2002, SDR has acted as a strategic consultant, trusted transaction advisor and confidant to the HealthTrans team. We are proud to see HealthTrans join SXC and pleased with the outcome for HealthTrans' shareholders, employees and clients
Denver, Colorado (PRWEB) January 25, 2012
Colorado investment banking firm, SDR Ventures, recently announced the sale of HealthTran LLC ("HealthTrans"), to Illinois-based SXC Health Solutions Corp ("SXC") for $250 million. SDR Ventures served as sell-side advisor throughout the transaction.
Headquartered in Denver, HealthTrans provides pharmacy benefit management (PBM) and healthcare information technology (HIT) services to approximately 260 clients across the country. Employing more than 250 people, HealthTrans maintains additional offices in Florida, Georgia and Illinois.
"SXC brings new products and services to cross-sell to our customer base along with the financial resources to help further strengthen our competitive position," said Jack McClurg, CEO of HealthTrans. "The transaction also provides our staff with an opportunity to join a dynamic company with a proven track record for growth. We look forward to becoming part of the SXC family."
Acquiring HealthTrans, SXC is one of the nation's leading providers of PBM and HIT services. The organization's wide range of services and product offerings cater to large employers, federal, provincial, state and local governments, retail pharmacy chains and other healthcare intermediaries.
"The acquisition of HealthTrans is a great fit with our strategy to acquire mid-market PBM customers," commented Mark Thierer, Chairman and CEO of SXC. " The acquisition not only adds to our scale, but also provides us the opportunity to bring our full suite of PBM services to their clients. HealthTrans' existing HCIT customers expand our pool of potential HCIT-to-PBM conversions."
"Since 2002, SDR has acted as a strategic consultant, trusted transaction advisor and confidant to the HealthTrans team. We are proud to see HealthTrans join SXC and pleased with the outcome for HealthTrans' shareholders, employees and clients," said Chris Bouck, Principal at SDR Ventures. "It has truly been our pleasure, both professionally and personally, to work with Jack and his team."
About SDR Ventures
SDR Ventures is a boutique investment bank serving the lower middle market. Operating beyond the confines of a traditional investment bank, SDR is reinventing the way business owners approach the market, offering transaction advisory, capital formation, strategic advisory and performance exchange services.
###