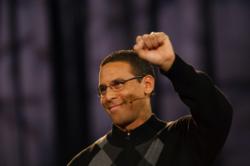 (PRWEB) January 24, 2012
Since the 1990s Liberty University has kicked off every semester with special evangelistic and discipleship based messages for the student body. Spiritual Emphasis Week will officially begin in convocation on Wednesday, Jan. 25, with Pastor Miles McPherson returning for his second time as the featured speaker.
McPherson is the senior pastor of the Rock Church in San Diego, Calif. He will speak at 10 a.m. in Wednesday and Friday convocations and for special services Wednesday and Thursday at 7:30 p.m. in the Vines Center.
Liberty's convocation is the largest weekly gathering of Christian students in North America.
As a former NFL player with the Los Angeles Rams and the San Diego Chargers, McPherson experienced his fair share of what the world had to offer him. After years of living an immoral lifestyle filled with drug use, McPherson realized he was empty inside and in 1984 decided to give his life to Christ. Today he is the author of several books and has many ministries reaching the San Diego community.
The purpose of Spiritual Emphasis Week is to meet students where they are in their relationship with Jesus Christ and deepen their faith in a time of worship, preaching, and encouragement, said Michael Miller, Liberty's Associate Director of the Office of Student Leadership.
"It sets the spiritual tone for the semester," Miller said. "It also gives the opportunity for new and transfer students to get immersed in the spiritual setting that Liberty University offers."
Liberty University, located in Lynchburg, Va., is the world's largest Christian university. More than 12,000 students attend classes on its 6,500-acre residential campus and more than 61,000 study in its thriving online education program.
###