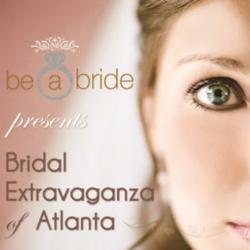 "We strive to create the most spectacular showcase of wedding planning ideas, trends and talent in the country
Atlanta, Georgia (PRWEB) January 24, 2012
The Bridal Extravaganza of Atlanta has earned a national reputation for the level of creative quality and design trendsetting. Now the producers of the January 29, 2012 show at downtown Atlanta's 200 Peachtree Special Events & Conference Center promise brides and vendors this will be their best show ever.
"We strive to create the most spectacular showcase of wedding planning ideas, trends and talent in the country," said Donna Jakulski, the veteran bridal show producer who created The Bridal Extravaganza of Atlanta. "This is the biggest and best show I have ever produced—and the industry knows I've produced many amazing wedding shows and planning events."
The January 29th Bridal Extravaganza of Atlanta features Themed Wedding Galleries with the hottest trends of the season to help brides personalize their celebration and make their wedding unforgettable. In addition to table design trends, there is an over-the-top wedding cake gallery, a bridal bouquet gallery and a photo gallery allowing visitors to compare traditional and photojournalism styles in our photography gallery.
The Bridal Extravaganza of Atlanta's fabulous fashion shows are well known as being among the most exciting and creatively produced in the industry. The January Bridal Fashion shows featured gowns from Wedding Angels, Winnie Couture, Brides by Demetrios, Anya Bridal and Savvi Formalwear, plus the latest hair & make-up from The Moore Agency and gorgeous bouquets by Cut Flower Wholesale.
"This show offers Brides more chances to win incredible prizes, " said Linda Surles, the co-producer of the Bridal Extravaganza. " Four lucky brides will win the gown of their choice, and there will also be the chance to try their luck to win $25,000 to spend on their wedding in the "Lucky In Love" casino… and of course, what would our show be without an amazing Dream Honeymoon giveaway!"
One lucky couple will win a romantic honeymoon stay at the Sugar Ridge resort in Sugar Bay Antigua, which is sponsored by Soiree's Southern Events.
The January Extravaganza also marks the return of the International Wedding Pavilion, providing brides seeking culturally unique services and idea showcases.
Among the Bridal Extravaganza of Atlanta Sponsors participating to make this show the best ever: 200 Peachtree Special Events & Conference Center, SE Events, Event Rentals Unlimited, Sheer Drapes by Geri Sims, Quest Drapes, Chair Cover & Linens, Cut Flower Wholesale, Eventscapes, Nancy Jo McDaniel Photography and Studio 25 Productions.
Tickets for the Bridal Extravaganza are available in advance on the web site http://www.beabride.co and can be purchased at the door for $15 (cash only). Doors are open noon to 5pm on Sunday, January 29, 2012.
For more information and to download the mobile Be A Bride Wedding Planning App go to http://www.beabride.co or facebook.com/beabrideatl. Brides are also encouraged to follow the Bridal Extravaganza of Atlanta on twitter @bridalextravatl for live show specials and insights, and new this show is the availability of the Be A Bride mobile wedding planning app.
###