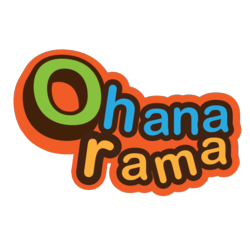 With Ohanarama's new video chat, children can play with their grandparents and have a lively conversation, full of fun, at the same time!
Philadelphia (PRWEB) January 25, 2012
Ohanarama, the safe social network for families to connect, learn and play together online, today announced that it has integrated video chat into its real-time gameplay, making it possible for families to have face-to-face "playdates." With the addition of the new video chat capabilities, extended family members playing Ohanarama's games, including board games such as checkers, chess, and mancala, can now see each other and interact while playing together online.
Though online video, such as Skype, has grow in popularity as a way for grandparents to interact with their long-distance grandchildren in a more personal way, grandparents struggle with keeping kids' attention and finding things to do and discuss while online. With Ohanarama's video chat integration, grandparents can engage in a meaningful way with their grandchildren by explaining and playing online versions of traditional board games, learning tips and tricks from the younger generation on newer games, and helping their grandchildren learn through fun math, logic and word games.
"As a parent myself, I know how challenging it is to keep our kids engaged with their grandparents between visits," said Jane Hoffer, Ohanarama Co-Founder, CEO and mother of three. "Phone calls can be a series of questions and answers. But with Ohanarama's new video chat, our children can play with Pop Pop and have a lively conversation, full of fun, at the same time! It comes naturally. They look forward to their online time as opposed to rolling their eyes when I hand them the phone!"
With older generations and younger children in mind, Ohanarama's video chat feature is easy to use. Once users have logged into Ohanarama they can see who is in their family network, including those currently logged in, and with a simple click of the mouse on the family member's avatar they can request an audio only or audio and video chat session.. With a chat session established, grandparents (or their grandkids!) can play a board game, take a Relativity quiz, challenge each other to top one another's score in an educational mini-game, or just make silly faces, tell jokes and be together real time.
The video chat feature was built using the OpenTok Video Platform, which enables website owners to embed customizable video chat into any website. Ian Small, CEO of TokBox, the operators of the OpenTok Video Platform, commented: "Face to face communication is the most human of online interactions, and what child doesn't want a human relationship with their grandparent? With so many families geographically dispersed across the country and the world, Ohanarama is making great use of the OpenTok platform to help these families stay close."
About TokBox
OpenTok by TokBox is the leading global interactive video platform, facilitating the addition of face-to-face experiences into any web property. Offering scalable, customizable solutions for enterprises, entrepreneurs and developers through an open and flexible API as well as simple plug-n-play apps, anyone with a web presence can harness the power of real-time communications to drive user engagement within their site or service. Based in San Francisco, CA, TokBox is privately held, with venture backing from Sequoia Capital, Bain Capital Ventures, DAG Ventures, and Youniversity Ventures.
About Ohanarama
Ohanarama is the safe social network for families to connect, learn and play together online. Through Ohanarama.com or Facebook, parents set up their kids' accounts and invite immediate and extended family members to join the secure, private family network. Once joined, elementary-age kids and their parents, aunts, uncles, cousins and grandparents can send messages, engage in educational and fun family games and contests, and earn real and virtual rewards including gift cards to favorite stores. Led by technology industry veterans who have launched such products as the JumpStart children's educational series and Zynga's Petville, Ohanarama is also backed by investors such as Charles Huang, the founder of Guitar Hero, and venture capital partners, SoftBank Capital and Contour Venture Partners. Ohanarama is the first product launched by BrainRewards, Inc.
###