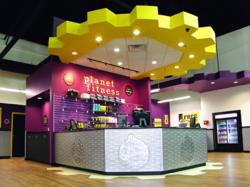 Louisville, KY (PRWEB) January 25, 2012
PF Louisville, a new Kentucky-based Planet Fitness franchisee has signed a development deal to bring 10 stores over the next 5 years to the Louisville and Southern Indiana area. The first location opened on January 16, 2012. Planet Fitness is the Judgement Free Zone and doesn't cater to bodybuilders or power lifters and is geared towards general fitness. In fact, most Planet Fitness members are first time gym users.
Brothers Rick and David Kueber, founders of Sun Tan City, launched PF Louisville in January 2012 with the goal to bring the low cost/high value gym to Kentuckiana. "What we like about the Planet Fitness model is that it offers everyone an opportunity to get healthy without the intimidation or intense sales pressures found at other gyms," says Rick Kueber. "At just $10/month with no contracts or commitments and staffed 24 hours a day consumers can't lose".
The first of two locations opened Monday January 16 in Louisville, KY at 7450 Jefferson Blvd., across from Jefferson Mall (next to Hobby Lobby). On Tuesday, January 17, the club hosted Patrick House, Biggest Loser Season 10 winner. The second location is set to open early March in Clarksville, IN – 516 E. Lewis & Clark Parkway across from the Green Tree Mall.
Both clubs will feature an extensive selection of over 100 pieces of cardio equipment. The Jefferson Blvd. location will include 51 treadmills, 31 elliptical machines, 25 Arc trainers and 10 stationary bikes. Every cardio machine is equipped with an entertainment system which allows you to watch any of the 55-inch high-definition televisions. The club will also have strength machines, a 30-minute Express Circuit, a 12-minute ab circuit, tanning booths, massage chairs, and full locker rooms. Both locations will also offer free fitness training.
In the United States, 3.5 million Planet Fitness members have embraced the company's Judgment Free Zone® philosophy at over 500 locations. Planet Fitness customers enjoy stylish, clean facilities equipped with name-brand cardio and strength machines, as well as a relaxed, Judgment Free Zone® atmosphere. Enforcement of the "Judgement Free Zone" prohibits grunting and dropping weights so their main clientele—first-time and occasional gym users—can feel comfortable working out. The philosophy transcends everything at Planet Fitness, including details such as the "Lunk Alarm," an actual beacon light and siren intended to deter members from the hard-core, look-at-me behavior found in too many gyms.
###