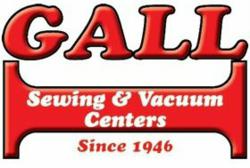 Our classes are one of our favorite things we get to do year after year
Grand Rapids, Michigan (PRWEB) January 25, 2012
Buy a man a blanket, and keep him warm for a day. But sign a man up for some Grand Rapids MI sewing classes and keep him warm for life — right?
Gall Sewing and Vacuum's string of local sewing centers are proud to be making it easy to do exactly that. A Grand Rapids sewing and vacuum icon since 1946, the company is putting its Grand Rapids MI sewing machines to good use again in 2012 with a robust slate of sewing and quilting classes.
"Our classes are one of our favorite things we get to do year after year," says Margaret Rosam, president of the Plainfield location. "They let us get to know folks in our community, teach them a few valuable skills, and learn from them as well. The classes are available for folks of all skill levels, but we always have some truly talented people sign up.
The two primary keys to Gall Sewing and Vacuum's success are quality and service. But the company believes strongly in education as well. So each month, the company offers a diverse range of sewing and quilting classes for everyone from beginners to quilting queens at all four area locations.
One favorite is the monthly "Celebrations Block of the Month" class, where students make a small quilt block representing each month of the year. In 2012, the quilt will be designed by Lynda Howell of The Stitch Connection and feature (for the first time) machine embroidery. Each month's square can be displayed alone or worked into a larger quilt. The class will be taught by Pat Kluz.
The class costs $15 a month, plus a pattern fee of $26 for four months or $75 for the full year. Embroidery machines are provided.
To learn more Gall Sewing and Vacuum Sewing, visit the company's website or give it a call at (888)-363-1911. To find a sewing or quilting class that piques your interest, take a look at Gall Sewing and Vacuum's full calender of sewing classes.
About Gall Sewing & Vacuum Centers: Gall Sewing and Vacuum has been selling top-quality sewing machines, vacuum cleaners, quilters, heaters and sewing cabinets to the community for more than 60 years. It's pristine sewing machine line includes machines from Janome sewing machines, Brother sewing machines, Bernina sewing machines. Simply put, it's a one-stop shop for Grand Rapids residents looking for unparalleled quality and service from a local business.
###