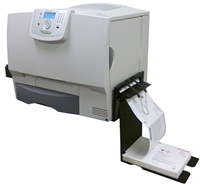 Houston, TX (PRWEB) January 24, 2012
Neuralog announces the NeuraLabel Printer, the first fully automated continuous color laser label printer that meets all GHS (Globally Harmonized System) and DOT (Department of Transportation) transportation, requirements and includes one-pass, 4-color printing technology. Labels are printed on-demand from your Windows system on 8.5 inch media. Multiple printing formats can be used depending on operational needs, and labels can be printed on label lengths ranging from 6" to 48" in length.
Unlike many cut sheet laser printers, the NeuraLabel Printer combines a jam-free design and great color image quality with no requirements for any pre-printing. Label loading is automatic, job after job, and single jobs can print hundreds of labels at once without any user attention. Labels fold neatly into the provided stacker. A roll-to-roll option is also available for installations where automated applicators require non-folded media.
"Clients are tired of carrying huge inventories of pre-printed labels, poor quality prints, clearing jams, and picking up labels from the floor. The NeuraLabel Printer solves all this and, with the right media, complies with GHS requirements recently adopted by OSHA. These requirements standardize the labeling of chemicals according to health, physical, and environmental hazards. Among these requirements is that printed labels be resistant to abrasion, marine immersion, and UV exposure," says Javan Meinwald, VP Business Development and Marketing.
The NeuraLabel Printer is the first printer that does not require work-arounds. The NeuraLabel Printer eliminates pre-printed inventory, allows companies to create custom GHS-compliant labels on demand from blank labels, and improves image quality. The NeuraLabel Printer gives companies flexibility by allowing any size label to be printed up to 4' feet in length.
About Neuralog™
Neuralog (http://www.neuralog.com) is a software/hardware provider for the chemical, oil and gas industries. There are thousands of people using Neuralog products in over 70 countries. For more information on the NeuraLabel Printer, visit http://www.DrumLabelPrinter.com or call 1-281-240-2525.
###