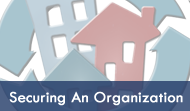 Information Security used to consist of an "us vs. them" mentality. But in this day and age, that is no longer effective"
New York, NY (PRWEB) January 31, 2012
Pivot Point Security's "It Takes a Village... To Secure An Organization" was presented at the FBI's 2012 International Conference on Cyber Security. The presentation has since been a topic of conversation with many of the company's potential clients. Pivot Point Security's John Verry's compelling message was simple: Information Security threats constantly evolve; therefore, an organization's approach to security must do the same.
Verry's presentation traced the history of Information Technology's "us vs. them" mentality from early main-frames through the current cloud computing boom, and the challenges that make that approach increasingly ineffective today. He also cited a somewhat surprising example of an evolved approach to information security – the US Government and the Stuxnet worm.
As Verry neared the end of his presentation, he brought up the $64,000 question, "How do I/we work "collaboratively" with employees, business partners, vendors, competitors, & attackers?" He went on to share advice for organizations struggling with those infinite shades of grey.

"Collaborate with your employees by offering security awareness training and engaging them in your incident response effort – because they are both your greatest threat surface and your largest incident detection system."
"Collaborate with your partners by defining key risks (yours and theirs); developing and monitoring SLA's to ensure controls integral to managing these risks operate as intended."
"Collaborate with everyone else (think coepetion and frenemy's) by leveraging information on evolving threats and evolving approaches available via academia, conferences, vendors, and open source data feeds."
Verry illustrated each approach with customer stories. He then closed the presentation with a simple question: "The World is Evolving – Are You?"
"It Takes a Village... To Secure An Organization" has been updated and re-recorded and is now available to view on the Pivot Point Security website.
About Pivot Point Security:
Continually evolving technology, business requirements, regulations, and threats make "being secure" and "proving you're compliant" increasingly complex. The only logical response: Simplify. Pivot Point Security makes it easier to prove that you are secure and compliant. Pivot Point Security focuses on four core practice areas; Security Assessments, Ethical Hacking, Compliance Assessments, and Security Information Event Management (SIEM). Visit Pivot Point Security at http://www.pivotpointsecurity.com
###