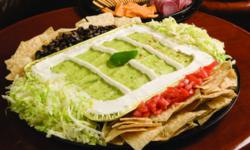 Wyoming, MI (PRWEB) January 25, 2012
From the pre-game hype to the half-time entertainment to the commercials, and let's not forget the actual game, Super Bowl Sunday has become one of the biggest social events of the year. In fact, it's the second biggest eating day behind Thanksgiving and ranks number one in snack food consumption! Check out these interesting stats:
Super Bowl Party Facts By-The-Numbers
8 million: Total pounds of popcorn consumed.
53.5 million: Pounds of avocados consumed.
222,792: Number of football fields worth of farmland needed to grow all that corn, potatoes, and avocados.
11.8: Depth, in feet, of guacamole consumed if it were spread across the football field.
293,000: Number of miles of potato chips, laid end to end, consumed during the game.
1 billion: Number of chicken wings consumed.
493: Number of Olympic-sized swimming pools that could be filled with all the beer drank.
Source: http://www.treehugger.com/culture/by-the-numbers-super-bowl-facts-and-figures.html
So, since the majority of America will be eating, drinking and enjoying the big game, how do you make your Super Bowl party stand out? Here are some easy tips and recipes from GFS Marketplace you can incorporate into your game day planning that will have you and your guests celebrating in the end zone:
Keep it simple
Purchase pre-made items like meatballs, chicken wings and party dips to cut down on your prep time. Add some pizzazz by using a variety of dipping sauces for the meatballs and wings.
Keep the food coming
Sure, the game is the main focus of the party, but the food is a close second. Keep things interesting by bringing out food in staggered times. During pre-game activities begin with snack foods like cheese and crackers, chips and dips, popcorn and party mix along with sliders and minis. At half-time add a pot of chili or a taco bar and then in the fourth quarter – desserts!
Create memorable football-themed snacks
Get into the spirit of the event with some football-themed dishes that are easy to make and fun to eat. These ideas that will wow your guests and add some flare to your table.
Penalty Flag Snack Bags
Open up a yellow napkin and lay it on a flat surface. Pour trail mix directly in the center of the napkin. Pull all four corners above the mix and twist it tight right above the mix. Use the ribbon to tie the napkin close.
Football Cheese ball
Using a pre-made cheese ball or making one from scratch, form the well chilled cheese mixture into the shape of a football and coat with chopped nuts. Use green pepper strips to create laces on the football.
Deep Dish Burrito Football Field
It's almost too amazing to eat! Almost. Create a football field on top of a deep dish burrito using guacamole for the field and sour cream for the side lines and end zones. Place a jalapeno pepper at the 50 yard line for a football and garnish the side lines and end zones with shredded lettuce, diced tomatoes, olives and tortilla chips.
Football Field Cake
Add green food coloring to coconut and sprinkle generously over a 9 x 13 sheet cake. Fill a plastic sandwich bag with white icing, cut a small corner at one of the tips of the bag and pipe the yard lines and end zones onto the cake. Make goal posts on each end of the cake with Rice Krispie Treat bars.
Check out these recipe ideas and others at http://www.gfspartyplanning.com
About GFS Marketplace
GFS Marketplace provides restaurant quality food service products and solutions to businesses and retail customers and has more than 140 stores located throughout Ohio, Indiana, Illinois, Florida, Kentucky, Pennsylvania, Michigan, Tennessee and Wisconsin.
###