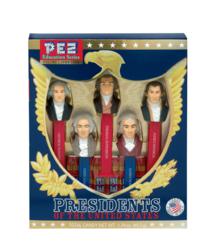 Orange, CT (PRWEB) January 26, 2012
PEZ Candy, Inc. today announced the launch of their brand new PEZ Education Series. PEZ Presidents of the United States Volume I is the first set in this series. It includes PEZ dispensers of the five Presidents (George Washington, John Adams, Thomas Jefferson, James Madison, and James Monroe) and one six pack of candy. The set will retail for approximately $12.99 and is available on the company's website, http://www.pez.com.
The PEZ Presidents of the United States program can be enjoyed as a collectible or used as teaching aids. PEZ has created a "For Educators" tab on their website where teachers and parents can download lesson plans and games developed around the dispensers. It will be updated as additional sets in the series are launched.
Next year, PEZ will release Volumes II and III and plans to launch two new volumes each year until the Series is complete. Additionally, the company will be launching other education- themed dispenser sets in the areas of history, science, and the arts.
"We have an opportunity to not only create great dispensers but also add real educational value. Many teachers collect PEZ and many people think we have already created Presidents dispensers, but this is the first time," stated Joe Vittoria – CEO of PEZ Candy, Inc. "We have already doubled our initial production plan for Volume I and expect more retailers to pick up the program next year."
About PEZ Candy, Inc.
PEZ Candy, Inc. is the pioneer of "interactive candy" that is both enjoyable to eat and fun to play with. PEZ Dispensers are a hot collectable for adults and children alike and have been a staple of American pop culture for over 50 years. To learn more, visit http://www.pez.com
If you would like more information about PEZ Candy, Inc., please call Keith Whitaker at (203) 795-0531 x260 or email at whitaker(at)pezcandyinc(dot)com.
###