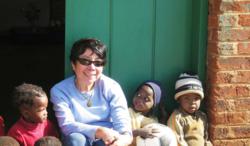 For the sisters, the struggle for a humane world is not an option. It is an integral part of spreading the Gospel.
Baltimore, MD (PRWEB) January 25, 2012
The Sisters of Bon Secours have released their latest video, A Mission of Hope and Healing in South Africa, to show others the dramatic needs of many South African people. These are people faced with hunger, malnutrition and even starvation. They also suffer from HIV/AIDS and there is an overwhelming population of orphans. The Bon Secours sisters in South Africa provide care to many with these devastating needs while sharing their love of God in everything they do.
Their ministry began in the village of Limpopo, South Africa in June of 2008 when four Bon Secours sisters established the mission. In 2010, two sisters from the United States, Sister Vicky Segura, CBS, MD and Sister Elaine Davia, CBS, RN, NP traveled there to assist with medical and nutritional needs and fill in for the four sisters who reside there while they enjoyed vacation time. These American sisters utilized their medical skills to assist many HIV/AIDS patients and were also able to help refugees, families and orphans with basic needs in the village. They share inspiring stories from their journey in this short video.
In addition to the sisters' ongoing work in their HIV/AIDS clinic and in outreach to the people in the villages they are now educating young women in the skills they will need to assure income and a brighter future. They currently provide culinary classes for women to cultivate an employable skill.
The Sisters of Bon Secours answer God's call globally to help others by defending all life, crying out against injustice and human trafficking, advocating for global solidarity and promoting the preservation of the planet. We invite you to experience this inspiring video that demonstrates the many ways, in one corner of the globe, where the sisters are sharing Jesus' message with those so much in need.
About the Sisters of Bon Secours: As an international congregation of Catholic sisters they have long had a heart for providing healthcare, social services and spiritual comfort to disadvantaged communities since their inception in 1824 when they nursed the sick in their homes. Today, their holistic approach to caring for all of creation equips the Sisters of Bon Secours to spread wellness and God's love throughout the four corners of the world. For more information on discerning your vocation or becoming a nun, please visit http://BonSecoursVocations.org, email: CBSVocations(at)bshsi(dot)org or call 410-442-0267.
###