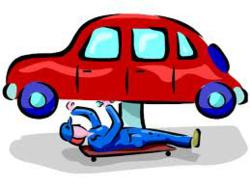 "If you have been involved in an accident or your vehicle is being repaired, we will try our best to ensure the entire rental is paid for by the other party or your insurance company," says a spokesperson for AAMCAR.
New York, NY (PRWEB) January 26, 2012
AAMCAR, the tri-state's premier discount car rental provider, implements a new billing service working directly with insurance companies and saving car renters precious time and money. Whether a car rental is needed on a monthly or short term basis, AAMCAR will work with the customer's auto insurance company to ensure the length of the rental and the amount they offer so out-of-pocket expenses are minimal.
Customers in need of renting a car have the option of choosing any rental provider or location. If the car rental company suggested by the insurance company is not convenient, AAMCAR will pick customers up and bill their insurance companies directly for all charges.
Choose from a large selection of mid-size cars able to seat 5 people such as the Ford Focus and Toyota Corolla starting at $700 per month. Larger vehicles including SUVs and Minivans also have deals starting out at $1300 per month. The longer a customer needs to rent, the more AAMCAR will discount the rental so their coverage lasts the entire period while their car is being repaired or replaced.
Rental reimbursement coverage is generally subject to a daily and per claim limit. Coverage stands until the damaged vehicle is back on the road or until a customer's coverage limit runs out, whichever comes first. If the damaged vehicle is a total loss, the amount of authorized rental time will be limited, so customers will need a replacement vehicle right away.
For visitors looking to wander about the New York City area, deals start as low as $250 per week. Services include pick up from any area airport such as LaGuardia, JFK, Newark and Westchester in the tri-state area. AAMCAR also caters to those with debit cards and those who prefer to do cash rentals, making them one of the highest rated customer satisfied car rental dealers in the area.
"They are so accommodating and friendly. I have been renting cars and vans here for over 8 years, both for business and leisure. They are always so helpful and will bend over backwards to make your renting experience perfect," says one recent satisfied car rental customer.
For more information about AAMCAR visit http://aamcar.com/ like their Facebook or follow @aamcar on Twitter.
About AAMCAR
For over 25 years, AAMCAR has identified with the needs of the average New Yorker. AAMCAR's owner realized that buying new cars is a better business model because newer vehicles are more attractive to a potential renter and is a better investment. AAMCAR gradually added Minivans and SUVs to its fleet, including five passenger sports utility vehicles and sports cars like the Ford Mustang to meet the demands of renters who come from Europe and all over the world to visit NYC. AAMCAR's staff provides excellent customer service and AAMCAR does not overbook its vehicles. AAMCAR also provides prices that are lower than the other NYC rental companies.
###