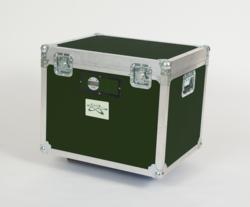 Be green and save money at the same time - Intellitherm
Schaumburg, IL (PRWEB) January 25, 2012
http://www.intelligentthermalsolutions.com – Intelligent Thermal Solutions, the leader in reusable, intelligent thermal shipping containers, announces the launch of its Chaperon™ product line for tracking and tracing products shipped in its IntelliTherm™ reusable shipping containers.
"Our customers have been asking for track and trace for some time, and we now have the product that will satisfy this requirement," Rich Ellinger, CEO of ITS, said. ITS has teamed up with OnAsset Intelligence, Inc. of Irving, Texas USA to incorporate the OnAsset SENTRY 400 FlightSafe® product into its reusable shipping containers to track the location and the temperature inside the containers during the shipment.
The SENTRY 400 FlightSafe® unit contains globally compatible cellular technology that enables it to communicate from virtually any location on the globe. It transmits the information to a server where the customer can access the information through Vision™, its secure web based portal, and determine the location and conditions of the container in near real time. The SENTRY unit can also detect lid open/close, ambient temperature, shock, motion, vibration, pressure, and optionally humidity.
OnAsset's patented FlightSafe technology is already approved by major cargo and passenger airlines for use on their aircraft. The technology senses when the aircraft is in flight and stops transmitting until the aircraft has landed at which time it wakes up and transmits the information it recorded during the flight. Intelligent Thermal Solutions will be working with OnAsset and their existing carrier network to approve the new FlightSafe equipped IntelliTherm containers.
"We are happy to be working with ITS during this exciting launch of their new Chaperon product line," said Adam Crossno, president and CEO of OnAsset. "The integration of tracking technology with reusable packaging creates a compelling solution for shippers and makes it easy for them to manage a single solution throughout transit."
The OnAsset Vision™ web based portal has powerful capability to notify by email or SMS in case of an alarm or out of tolerance situation. It can be set up with shipment routes and schedules and will alarm if the route or schedule varies by a user set tolerance. It also includes custom geofencing features to manage the unit within specific areas.
Intelligent Thermal Solutions will exhibit the Chaperon IntelliTherm R36 120 hour duration container with the SENTRY 400 FlightSafe® at the IQPC Cool Chain Europe in Basel, Switzerland January 31 – February 1 (stand #4) and at the IQPC Clinical Trial Supply Europe in Basel February 2 – 3, 2012 (stand #14).
About Intelligent Thermal Solutions, LLC:
Intelligent Thermal Solutions, LLC is a south Texas company headquartered in Kingsville, TX, previously known as Active CC Boxes LLC. ITS was recognized with the 2011 Greener Package Awards for Environmental Impact and Innovator of the Year, for its depot-style logistics system. The technology in EcoTherm™ containers was recognized with the 2002 DuPont Gold Award for packaging design innovation for cold chain, and the 2002 R&D 100 Awards recognizing the 100 most technologically-significant products of 2002.
About OnAsset Intelligence:
Headquartered in Irving, TX, OnAsset Intelligence Inc. is a leading provider of wireless devices and software solutions focused on helping customers wirelessly locate, track, connect, and manage fixed and mobile assets in real-time. The company's M2M products and services include SENTRY™ wireless hardware with its flagship product line FlightSafe® for air cargo tracking and ContainerSafe™ for shipping container security, its web-based Vision Platform™ and global wireless connectivity services. OnAsset's products are protected by Patent numbers: 7,233,247; 7,475,806; 7,538,681; 7,652,576; and 7,791,455. For additional information on OnAsset's SENTRY, FlightSafe®, ContainerSafe, and Vision products, please visit http://www.onasset.com.
###