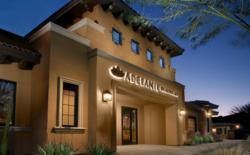 "The Brivo system makes my job easier and frees me up for other things. It's very easy to manage and we can focus our time on providing quality care to our patients." Larry Kadin, Adelante Facilities and Purchasing Manager.
Bethesda, Maryland (PRWEB) January 24, 2012
Brivo Systems LLC, leader in Software as a Service (SaaS) applications for security management, today announced that Adelante Healthcare, a private non-profit located in Arizona, has standardized on Brivo for access control management at its current and future health care and administration facilities. Adelante Healthcare currently operates seven health centers throughout Maricopa County, offering a wide array of services to patients of all economic backgrounds. Accel Communications is the integrator for this expanding installation.
"We had to get away from lock and key," recalled Larry Kadin, Facilities and Purchasing Manager at Adelante. "With keys, I don't know who has a key and how many copies may have been made." As a healthcare provider, Adelante must ensure their facilities and all data are protected in a highly secure manner.
Kadin and his team researched different access control providers, but after a Brivo representative provided a live demonstration of the Brivo ACS WebService technology to Kadin and staff from the HR and IT departments, "It was an easy sell at that point. I've not seen anything that comes close to what Brivo provides. And we're certainly not going to change in mid-stream. It's great, with one call to Accel, everything's taken care of," explained Kadin referring to Adelante's initial decision and the roll-out of their upgraded access management.
To date, Adelante has installed Brivo access control on 18 doors, including internal doors to IT rooms, at their seven facilities. They are currently planning to add at least six additional doors as more square footage comes online. "Going keyless has been great for our organization, we don't have security issues and breaches when we don't have all those keys out there," Kadin said. "Now, we've got one person administering multiple sites from one web interface—that's huge for us. We have better records and better access to data, and we can provide needed information to other departments."
"The Brivo system is a joy to work with. It saves us so much time compared to other systems we were looking at," said Kadin. "The two biggest advantages for us have been the simplicity we have in setting Brivo up at a new site and the reach we have across all our facilities with just a few keystrokes. For any business, it is critical that you understand who is coming and going and you want to make sure your employees are protected—that's the nature of security."
Kadin and his staff enjoy the flexibility and power they have with Brivo ACS WebService. Access can be programmed easily, quickly, and as Kadin said, "In a manner of minutes it's done. Also with the Brivo system I can pulse a door from anywhere I have an Internet connection to instantly allow entry to someone on the weekend. People are amazed."
To date, Adelante has issued access cards to over 200 employees at their seven facilities with the Brivo system. In addition to managing employee access, outside janitorial staff and property management staff are also programmed into the system and issued cards which offer them access when and where needed.
"The Brivo system makes my job easier and frees me up for other things. I know senior management needs to focus on bottom line cost, but there is so much more that this system does for you from a non-financial standpoint. You'd be surprised how often we use the system to check on activity like someone swiping out early. With Brivo, it's easy to find out what we need, the system doesn't lie. The system is very easy to manage and we can focus our time on providing quality care to our patients." Kadin concluded.
For more information on the Brivo Online Access Control System, contact Brivo toll–free at 1-866-692-7486, option 1 or email [email protected] To view a demo, visit http://www.brivo.com/demo
About Brivo Systems
Brivo Systems, LLC is a SaaS-based security management systems provider for organizations that need to protect and remotely monitor buildings and perimeter entry points. When introduced in 2001, Brivo's Web-hosted physical access control system was a unique solution—after a decade of evolution and innovation, it still is. Brivo's groundbreaking physical access control and video solutions empower organizations by giving administrators real-time device control, including immediate visibility of security events and video in local or remote facilities—anytime, anywhere.
The company's innovative, secure, and open architecture-based products and services enable businesses to protect people and assets, comply with regulations, and improve business operational efficiency. These scalable systems—whether standalone or appliance-based or cloud-based—offer a solution for every type of business. Brivo's security management products are a market-proven fit for commercial office buildings, warehouses, retail stores, manufacturing plants, and sensitive areas, such as server rooms or R&D labs, where real-time control and accountability of entry are important.
With headquarters in Bethesda, MD, Brivo is a wholly-owned subsidiary of The Duchossois Group, a privately held holding company headquartered in Elmhurst, Illinois, which also owns other industry leaders such as AMX, The Chamberlain Group, and Milestone AV Technologies.
Brivo is a wholly owned subsidiary of The Duchossois Group, a privately held holding company, headquartered in Elmhurst, Illinois, which owns AMX, The Chamberlain Group and Milestone AV Technologies. Duchossois also holds strategic interests in Churchill Downs, Inc., and a number of other diversified businesses.
For media queries:
Bruce J. Doneff
Public Relations
(201) 966-6583
bruce.doneff(at)brivo(dot)com
For Brivo Systems, please contact:
Rajeev Dubey
Director, Marketing
301.664.5251
rajeev.dubey(at)brivo(dot)com
###