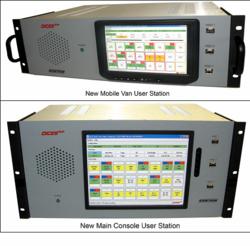 This contract represents a very significant enhancement of our DICES VoIP product line, incorporating new features directly applicable to usage at Range operations across the entire country
Santa Maria, CA (PRWEB) January 24, 2012
Quintron Systems, Inc. (http://www.quintron.com), the recognized leader in advanced interoperable voice systems and physical access control/intrusion detection systems, is pleased to announce that following a competitive award in late 2010, Quintron Systems has completed the initial delivery of a major DICES VoIP system to the White Sands Missile Range (WSMR). This system was originally specified by ATAMIR on behalf of the U.S. Army WSMR Systems Engineering (SE) Directorate. This DICES system will be the first major IP-based user system introduced onto the WSMR Test Support Network (TSN) and will replace several disparate, aging voice systems. This upgrade will put WSMR at the leading edge for U.S. Ranges in the DOD-directed migration to net-centric architectures and the selection of DICES VoIP signifies its unique applicability to support this transition for mission-critical voice applications.
An incremental delivery process was planned from the initial contract award with several major engineering enhancements also incorporated to support the overall WSMR requirements. Key in this regard are two new user stations (see photo) that will provide direct drop-in replacements for existing stations to simplify the implementation process. Major software enhancements include distributed central servers with database replication to support independent North and South Range operations at WSMR while keeping a hot back-up server available for either. A planned DICES VoIP feature, the IP Trunk was activated for the WSMR project as well. This feature provides for direct sharing of audio circuits between the distributed central servers to facilitate common operations with least bandwidth utilization. The ability to partition the system database to control user access is another key feature that supports WSMR multiple simultaneous mission operations.
"This contract represents a very significant enhancement of our DICES VoIP product line, incorporating new features directly applicable to usage at Range operations across the entire country," said David E. Wilhite, Quintron President. "The cooperative working environment with the ATAMIR and WSMR Range teams has been instrumental in the quick turnaround delivery incorporating such major enhancements," adds Wilhite, "and we anticipate successful full start-up of this initial increment shortly."
The task order delivery was completed in early January following a successful Factory Acceptance Test in November. This first increment includes two main DICES VoIP central servers with IP Trunks and database replication, four T1 Gateways and 120 total DICES VoIP user stations of three different types. The servers and Gateways along with a small set of stations were installed and start-up operations completed by ATAMIR in December. A U.S. Army Information Assurance (IA) review is underway with planned completion in the spring to support active connection to the TSN and initiation of transition operations across the WSMR control rooms. A second contract purchase is planned in early 2012 for more equipment to continue the implementation process.
For more information about Quintron solutions and services call 805.928.4343 or visit http://www.quintron.com.
About Quintron
For over 40 years, Quintron has provided high technology and cost effective solutions worldwide to government and industry in support of mission critical communications and security requirements for command and control applications. No other company offers the depth of expertise found at Quintron in fault tolerant, interoperable communications, and security systems. In addition to providing advanced products and systems, Quintron's professional technical services capability provides a superior level of customer satisfaction. Quintron's engineering services provide off-the-shelf or customized engineering solutions to solve the toughest of challenges facing customers. Visit http://www.quintron.com or call 805.928.4343 for more information.
AccessNsite is a registered trademark of Quintron Systems, Inc.
All other trademarks in this release are the property of their respective owners.
# # #