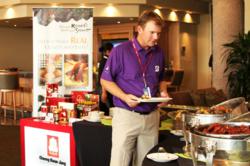 We will continue to promote the superiority of Cheong-Kwan-Jang Korean ginseng as a natural health food and premium brand to the mainstream market.
Cerritos, CA (PRWEB) January 26, 2012
The US branch of Korea Ginseng Corporation (KGC, found at http://www.kgcus.com) presented its high-end Cheong-Kwan-Jang (CKJ) six-years-grown Korean red ginseng at PGA Tour Humana Challenge, January 16-22, held at La Quinta, CA sponsored by the William J. Clinton Foundation, in order to promote the superiority of Korean red ginseng as a global health food phenomenon and introduce the popular Asian health food in its newly Westernized formats.
During the PGA Tour, famous for its visiting celebrities, sports stars, and prominent figures, KGC introduced its line of CKJ Korean ginseng products and offered sample dishes and recipes that make use of the health food for its superior health qualities and unique taste. Korean ginseng is globally well-regarded for supporting the immune system, healthy blood circulation, memory functions, boosting physical stamina and having twice the variety of healthy components as other ginseng species. These qualities make it a popular premium health supplement for sports players and those interested in natural health foods.
KGC displayed their Korean red ginseng products and dishes at the players' and journalists' luncheons on the 19th and 22nd, respectively, presenting special gift sets to the PGA players and journalists that included the popular Korean ginseng extract capsules and Korean ginseng tea. A Korean lunch buffet made use of ginseng in such dishes as Korean ginseng beef stew and ginseng iced tea. KGC additionally sponsored a booth inside of the PGA West Golf Club, offering a tasting event of mainstream products developed for the North American market to gallery visitors, including free samples of Korean ginseng tea and Korean ginseng energy drinks, providing welcomed refreshment to the tour-visitors under the warm La Quinta mid-day sun.
The Cheong-Kwan-Jang brand is significant, because its holds an 80% market share in Asia, the region's highest-level of quality assurance for ginseng products, has a 113 year legacy originating in the Korean government, and has earned several international awards for reliability, charitable giving and trust.
According to Mr. Rian Lee, a marketing director of KGC, "This event gave Korea Ginseng Corp an opportunity to introduce the healthy properties of Korean ginseng, such as supporting the immune system, supporting blood circulation and boosting energy and physical endurance to famous PGA players, as well as reach out to the sports-class and healthy-living communities, while presenting our high-quality products. We will continue to promote the superiority of Cheong-Kwan-Jang Korean ginseng as a natural health food and premium brand to the mainstream market. Participating in the Humana Challenge charity event for healthy living fulfills KGC's core philosophy, which is to support the health of our customers and the well-being of our greater society."
Many famous Korean sportsman and sportswomen are known for consuming Korean ginseng to support their health. A representative of Korea Ginseng Corp noted that, "Ginseng is beloved by sports players, because it is especially well-regarded for supporting endurance by preventing lactic acid build-up within the body and also safe to consume, natural product, with no doping effects and no overdose limit. While ginseng comes in many brands, only Korea Ginseng Corp's Cheong-Kwan-Jang brand of Korean red ginseng is guaranteed to have been grown for 6 years, the optimal growing age for maximal health properties, under the highest quality control standards, making our brand the most trusted brand of Korean ginseng in the world."
The Humana Challenge is one of the major tournaments of USGA, having been initiated in 1960 as a charitable event where popular celebrities and golf professionals participate together. It was well known as the name "Bob Hope Classic," but changed the name to Humana this year. Sponsored by Bill Clinton's William J. Clinton Foundation, the Humana Challenge is one of the world's most prestigious golf tournaments and the first PGA tournament held in United States. Last year's PGA Champion, Jhonattan Vegas, and FedEx Cup Champion, Bill Haas, participated in the tour, as well as Dustin Johnson, Joe Ogilvie, and Jerry Kelly.
Additional information about Korea Ginseng Corp and 6-years-grown Korean red ginseng may be found at http://www.kgcus.com.
###