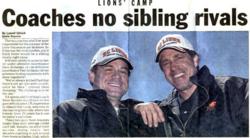 I had problems others thought were insurmountable and had given up on me; and my mother found ERA through a close personal friend, and they literally saved my life.
Saint George, UT (PRWEB) January 25, 2012
Eagle Ranch Academy is a Residential Treatment Center marked solely on helping to heal and recover troubled teens. This program helps its students gain the necessary skills they need to become successful in life, relationships, and business, using core values and choice based programs.
The Montel Williams Show gave Eagle Ranch Academy an honorable mention when it named Eagle Ranch Academy (RTC) the best Residential Treatment Center in the US. Many others recognize this treatment center as well, as it is an extremely high ranked competitor in teen treatment programs.
The most important goal for Eagle Ranch Academy is the goal to be able to heal and reunite families that otherwise might not be reunited. With their 8 core values, limited enrollment, and academic accreditation, they offer one of the best and in depth program for any teen. The students get in depth instruction and great treatment because of the private, small feel of Eagle Ranch Academy.
Eagle Ranch Academy is equipped with many amenities. A secure 24/7 facility provides protection for this 3 acre campus. There is also a full service fitness center, psychiatrist at least one a week, healing family therapy calls, and former students called "Junior Staff" to help the current students cope and succeed.
Healing and liberating teens is hard to do outside of a structured program of professionals and specialists. Eagle Ranch Academy provides just that, with its reputation continuing to grow enormously.
Find out more about Eagle Ranch Academy (RTC) and stay informed on how to help a troubled teenager.
Eagle Ranch Academy is a co-ed residential education program for struggling teens, ages 12 through 17. Licensed and monitored by the State of Utah as a Residential Treatment Program, with an extensive accredited academic and life skills program for its students.
###