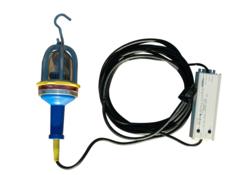 The EHL-LED-120XLV-100 is a new addition to our group of string lights; this drop light gives operators the ability to step down 120/277 to 12VDC or 24VDC to provide low voltage where required
Kemp, Texas (PRWEB) January 25, 2012
The Magnalight EHL-LED-120XLV-100 Explosion Proof LED Drop Light produces 760 lumens of high quality light without any of the yellow tint or poor contrasting associated with incandescent lamps. Consuming only 7 watts, this LED drop light produces well over twice as many lumens per watt as a 100 watt incandescent, yet runs cool to the touch and lasts for 50,000 hours of operation without bulb changes. With this LED drop light, operators can expect years of reliable operation with none of the accidental burns or the frequent shattered glass bulbs common with incandescent drop lights. Approved for Class 1, Division 1 & 2 hazardous locations, this explosion proof LED work light includes an inline transformer to allow operators to connect to common 120-277 VAC current for convenient and versatile use in commercial and industrial workplaces. This drop light is constructed with a non sparking aluminum housing and an aluminum lamp cage for rugged and safe operation, and includes an LED bulb assembly in operator specified 12 or 24 VDC low voltage configurations to provide low voltage compliance where needed. The included inline transformer is mounted inline and steps down common 120-277 VAC to 12 or 24 VDC depending upon the purchaser's desired lamp voltage configuration. Also included is 100 feet of SOOW cord to provide ample length for moving about the work place and connecting the unit to power sources outside the hazardous area. The light produced by this LED hand lamp has a 6000K color temperature, making it very useful in applications where bright intensity and good color rendering is important. The even output and clean light produced by this unit makes it a good choice for those performing tank inspections, working within spray booths, or even non hazardous applications such as automotive repair facilities where durability and reliability is critical.
"The EHL-LED-120XLV-100 is a new addition to our group of string lights; this drop light gives operators the ability to step down 120/277 to 12VDC or 24VDC to provide low voltage where required," said Rob Bresnahan with Larson Electronics' Magnalight.com. "This Class 1 Division 1 & 2 explosion proof hand light produces a much sharper whiter light than that produced by incandescent lamps. This handheld LED lamp is well suited to close work and inspection activities where good contrast and true color representation is needed."
Magnalight by Larson Electronics' Magnalight.com carries a wide array of LED work lights, magnetic mount work lights, LED drop lights, 12/24 Volt LED lights, and heavy duty HID work lights as well as a comprehensive selection of the latest in industrial/commercial lighting technology. View Larson Electronics' Magnalight.com full line of work lights and LED work lights by visiting http://www.Magnalight.com. Contact Magnalight by calling 1-800-369-6671 or 1-214-616-6180 for international inquiries.
###