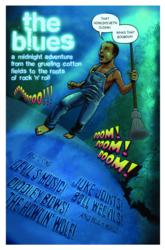 The Blues comic book not only entertains, but passes along African-American wisdom, that of using music to turn sorrow into joy.
Eugene, OR (PRWEB) January 30, 2012
For the first time ever, the blues has come to life in a comic book from publisher, Blues Comix. The full-color, 24-page glossy comic book called The Blues: A midnight adventure from the grueling cotton fields to the roots of rock 'n' roll, tells the story of a young boy from the Mississippi Delta in the 1930s as he discovers the blues and follows it throughout his life, from juke joints to the Great Migration north to electric blues and the beginnings of rock 'n' roll. Along the way, the story offers a glimpse of Southern geography, slavery and black history in the South, blues culture, significant blues and early rock musicians, instrument-making, songwriting, and more.
To celebrate Black History Month (February 2012), the comic book has now come to life with music and sound effects as a mobile app for iPhone, iPad, and iPod (Android coming soon). The app will be a free download for 24 hours on February 1, 2012 to kick off Black History Month, then will be available at a special, discounted price of just $1.99 for the remainder of the month, before returning to its regular price. A video tour of the app is here.
"We originally designed the comic book to support blues education programs, such as those put on by blues societies, blues festivals, and other Blues in the Schools programs around the world," says Josh Coen of Blues Comix, publisher of the comic book. "But the story is so unique and entertaining, that we have released a consumer version for sale on Amazon, and now the mobile app version available at the App Store."
Educational organizations purchasing the printed version in bulk get special pricing as well as free customization that allows them to include sponsor logos, information about their organization, and a listing of local blues and music resources. Also included with each bulk order is a full 20-page curriculum and How To, taking organizations step-by-step through how to start a successful blues education program using local resources and musicians and how to run any of three different proven program formats.
To view pricing, more information, or the entire comic book, visit http://www.BluesComix.com or call 800-373-1960.
"This comic book and curriculum is designed to enable blues societies to quickly and easily fulfill their missions of blues education in the community," says Coen. "We realize that many blues societies and educational institutions are short on volunteers, money, and experience running a successful music education program. We give blues societies everything they need to finally get started."
About Blues Comix
Blues Comix, based in Eugene, Oregon, promotes the healing power of blues and music through its groundbreaking comic book, mobile app, and curriculum. These teaching and entertainment tools are designed to showcase the importance and contributions of black culture and music in American history, and introduce this legacy to a new generation of kids who are searching for identity, self-worth, and ways to express their feelings — all of which blues was created to do.
Company founder, Josh Coen, a writer by trade and a long-time blues education innovator, has built one of the strongest Blues in the Schools programs in the United States in midwestern Oregon, where he runs blues programs twice monthly for 5,000 school kids each year, as well as Oregon's only under 21 blues jam. Blues Comix is a member of The Blues Foundation.
For more information: http://www.bluescomix.com, 800-373-1960, or josh(at)bluescomix(dot)com.
###