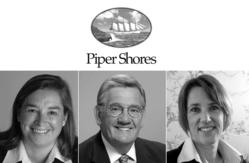 "Each new board members is an outstanding business and community leader, and we look forward to utilizing their talent and experience to further the implementation of our 2012 initiatives…"
Scarborough, Maine (PRWEB) January 25, 2012
Local Leaders Continue Tradition of Excellence at Maine's First and Only Lifecare Retirement Community.
Piper Shores, Maine's first and only non-profit lifecare retirement community, today announced the addition of three newly elected members to its Board of Directors.
New Board Members recently elected at the Annual Meeting in October 2011 include:
Karen Milliken – Vice President at R.M. Davis, Inc.
Matthew Charles O'Reilly – Retired Chief Investment Strategist and Senior Vice President from People's United Financial, Inc.
Susan Doliner, FAHP – Associate Vice President for Development at Maine Medical Center
These new members join existing board members Patrick O'Reilly, Suzanne Austin, Kathryn Barber, Patrick Costin, Mary Keysor, Stephen Larned, Suzanne McCormick, Stephen deCastro, Sylvia Most, Dennis J. O'Donovan, Victoria Kuhn and Mary M. Bertolet. The Piper Shores Board of Directors is focused on completing construction of the Master Campus Plan started in 2011 and in developing a new five-year strategic plan for the retirement community.
"We are very excited to welcome Susan, Karen and Matthew to the Board of Directors," said Michael Bierley, Executive Director of Piper Shores. "They are each outstanding business and community leaders, and we look forward to utilizing their talent and experience to further the implementation of our 2012 initiatives, most especially the completion of construction of our Master Campus Plan started in 2011."
About Piper Shores
Piper Shores is the only nonprofit lifecare retirement community in Maine and the first to be recognized by the Commission on Accreditation of Rehabilitation Facilities (CARF) and the Continuing Care Accreditation Commission (CCAC) - the nations' only accrediting body for continuing care retirement communities. Built in 2001 in a style that complements Maine's architectural heritage, Piper Shores is located on 138 acres of beautiful oceanfront property, situated between Higgins Beach and historic Prouts Neck in Scarborough, Maine. Piper Shores is an innovative retirement community that promotes the long-term well being of its residents through a continuum of activities and lifecare services. Piper Shores' residents enjoy active, independent lifestyles with guaranteed priority access to on-site assisted living and skilled nursing care, whenever they may need it.
Piper Shores is owned by Maine Life Care Retirement Community, Inc., a Maine nonprofit organization, formed by a group of accomplished local individuals to deliver the shared vision of creating an ideal retirement community on the coast of Maine. Life Care Services, LLC, the nation's leading development and manager of senior living communities, provides management services for Piper Shores.
For more information, visit http://www.pipershores.org or call 207-883-8700.
###